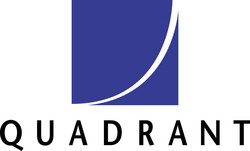 Reading, PA (Vocus) April 10, 2008
Engineers and designers will have more options for new or upgraded part designs with Quadrant's expanded range of Torlon® PAI shapes. Torlon is an ideal material for applications where extreme strength, stiffness, stability and wear-resistance are required. It is far more economical than most grades of PI and of-fers better performance in applications up to 500° F (260° C). Quadrant has exclusively produced Torlon 4203 PAI and Torlon 4301 PAI rod and sheet for several years. More and more engineers are recognizing the performance benefits of Torlon and are im-pressed by its value. Quadrant has been working to provide the material performance, sizes and shapes that this increasing interest is generating.
Quadrant is adding several larger rod diameters - up to 5.0" diameter for the electri-cal/structural grade of 4203 and up to 2.5" diameter for the bearing grade 4301. These larger diameters markedly improve yields for parts that were previously machined form sheet, and the machining of rods gives fabricators an opportunity to increase productiv-ity.
In addition to the new sizes, a new capability to provide tube in 4203 and 4301 up to 4.0" O.D. offers additional material and machining productivity gains. These new sizes and productivity enhancing shapes offer engineers more options for high performance and severe service bearing applications where Torlon's strength, temperature and chemical resistance are necessary.
Quadrant provides many grades of Torlon including:
High Strength Grades
Torlon 4203
Torlon 4XG (also known as 5030)
Torlon 5530 (developed by, and exclusive to Quadrant)
Torlon 4XCF (also known as 7130)
Wear-resistant Grades
Torlon 4301
Torlon 4501 (developed by, and exclusive to Quadrant)
Torlon 4540 (developed by, and exclusive to Quadrant)
Specialty Grades
Semitron® ESd 520HR (developed by Quadrant for semicon device testing)
Semitron® CMP XL20 (developed by Quadrant for semicon CMP processing)
About Quadrant EPP
Quadrant EPP's products range from UHMW polyethylene, nylon and acetal to ultra-high performance polymers that resist temperatures to over 800°F (425°C). The company's products are used for machined parts in food processing and packaging, semiconductor manufacturing, aerospace, electronics, chemical processing, life sciences, power gen-eration and diverse industrial equipment. Quadrant EPP's products are supported by a global team of application development and technical service engineers.
Full support in evaluating designs and machining of parts is available from Quadrant En-gineering Plastic Products' Technical Support Group. Learn more about Quadrant at http://www.quadrantplastics.com.
Acetron, CleanStat, Duraspin, Duratron, Erta, Ertalyte, Ertalene, Ertalon, Extreme Materials, Fluorosint, Ketron, MC, Monocast, Nylatron, Nylasteel, Polypenco, Proteus, Sanalite, Semitron, Techtron, TIVAR and Vibratuf are registered trademarks of the Quadrant group of companies. Torlon is a registered trademark of Solvay Advanced Polymers.
NOTE TO EDITORS:
If reader contact information is listed with this item, please send inquiries to Kim Imes or Kress Schwartz, Marketing Communications Team, Quadrant Engineering Plastic Products, 2120 Fairmont Ave. PO Box 14235, Reading, PA 19612-4235. Tel: 800-366-0310, Fax: 800-366-0301.
Press Contact at Quadrant Engineering Plastic Products:
Kim Imes – kim.imes@qplas.com
Tel 610.320.6709, Fax 610.320.6868
Kress Schwartz – kress.schwartz@qplas.com
Tel 610.320.6639, Fax 610.320.6868
###