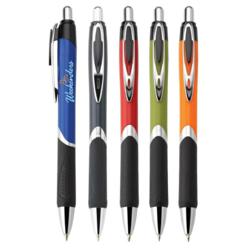 Toronto, ON, Canada (PRWEB) March 07, 2013
torontopens.com, North America's leading provider of customized advertising pens, is pleased to now offer free shipping on all advertising pen orders to clients across Ontario.
Ontario has the largest economy in Canada, highly influenced by the service sector and manufacturing, and Toronto is the country's financial, commercial, entertainment, distribution and industrial centre. With a bigger population than anywhere else in the country, the opportunities for businesses in the Metropolitan Toronto area are boundless. Marketing is the key to gaining and retaining long term clients for any Toronto based company, whether it employs thousands in an office or manufacturing plant, or is a small business with just a handful of staff. Now more than ever, it is critical that Ontario businesses watch every dollar, and use their marketing budgets to reach out to clients in ways that their competitors do not. In addition to utilizing today's social media, giving clients a customized promotional pens is an affordable and effective way to put a company's brand directly into their client's hands. Advertising pens are a physical memory of the company that gave it to them, one that will likely be kept and used again and again instead of being looked at once and then being thrown away.
torontopens.com knows how important cost for quality business pens is, and that a high shipping bill can sometimes be equal to or even more than the price of the pens themselves. So as part of our goal of providing exceptional customer service, torontopens.com offers free express shipping on all orders to clients across Ontario, from Cornwall to Kenora, and from Windsor to Fort Severn. Free shipping gives our clients a considerable cost savings, which they can then apply to other company expenses.
Toronto Promotional Pens offers a wide range of fast pens from trusted manufacturers including Scribe, Maxine, Tenor and Omni. Starting as low as $0.31 per unit for basic pens, and ranging up to $6.00 for high end models, there is a style to suit every company's tastes and needs, from sleek business models to fun and colourful pen and highlighter combinations. torontopens.com's selection of promotional ballpoint pens includes retractable and twist action mechanisms, and are constructed with materials including aluminum, chrome and recycled plastic. Many pen designs are accented with satin silver, chrome or brightly coloured finishes, and pen highlighter combinations are accented with colours matching the highlighter's ink. Imprinting of logos and corporate information on pen barrels is available in a selection of one of eighteen different ink colors, with some styles including imprinting on the handy pocket clip.
For more information on how torontopens.com can provide your company with quality fast pens without the high costs of shipping, call 1-888-844-7367 or order online at torontopens.com.
About torontopens.com:
A member of the 1234 PENS family, torontopens.com has been in business for more than 35 years, helping more than 300,000 clients increase brand awareness and customer loyalty through their high-quality products. torontopens.com offers the lowest prices on all its customized promotional pens, and includes free express shipping on all orders to customers in Ontario.