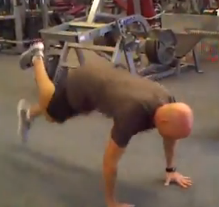 Atlanta, GA (PRWEB) March 19, 2013
As spring approaches, people are soon realizing that swim season is quickly coming. But with warmer weather on the way, people are looking for bodyweight exercises and bodyweight workouts that they can do in the comfort of their own home. But unfortunately, bodyweight circuits can be really boring after doing them for several weeks. But as Mike Whitfield, the author behind the intense bodyweight circuit workout called "Bodyweight Torch" explains, it doesn't have to be. Mike is a trainer in Georgia that has lost 105 pounds and he just revealed a video to his Bodyweight Torch subscribers that explains the single leg burpee full body bodyweight exercise.
Whitfield said, "The single leg burpee simply makes the burpee exercise more difficult and adds a whole new challenge. Anyone can take this bodyweight exercise and make it harder by doing it with one leg. It's one of the most challenging bodyweight exercises that work the legs, core, arms, chest, shoulders and of course, creates a cardiovascular effect. Using the single leg burpee in a bodyweight conditioning circuit allows anyone to train at an elevated heart rate. When anyone trains with an elevated heart rate, they lose more fat. That's why I wanted to share the exercise demonstration video of this advanced bodyweight exercise for our subscribers. The single leg burpee is one of the most challenging full body bodyweight exercises that can be done anywhere, including a hotel room. Bodyweight circuits are a great way to stay in shape when anyone can't make it to the gym or they are on travel and don't' have access to a gym. This full body bodyweight exercise takes some coordination, but after some practice, people can put this great bodyweight exercise into their program."
Find out more about Mike's program at http://www.bodyweighttorch.com, which is available to download at no cost.