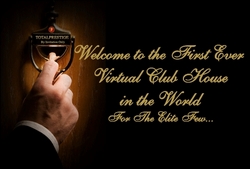 The Facebook for the Filthy Rich
New York, NY, and London, UK (PRWEB) February 12, 2009
Over the years, Totalprestige Club has always followed the usual practices of traditional elite clubs. In keeping with this policy, it has announced today that several Honorary Presidents were recently appointed. It has also reported that as of February 1, 2009, annual contributions made by members, as well as part of the revenues from its Gala Evenings, will support the Totalprestige Foundation and specific charities selected by the Honorary Presidents.
Annual contributions required from members range between USD $100 (minimum) and USD $10,000 (maximum). When registering, all members may determine how much they will contribute: USD $100, $300, $500, $1,000, $5,000 or $10,000. These contributions are subsequently delivered to the Totalprestige Foundation.
"Our Foundation," Founder, Rose Marie Perez explains, "does not have its own humanitarian program, so its mission is to help other charity organizations as much as possible. However, it has become increasingly difficult to decide which organizations to support, as there are a great many of them and they are all doing a fine job. For this reason, we asked our Honorary Presidents what their favorite charities are, and these are the ones we will help from now on."
These are the selected charities:

Totalprestige is a private and closed circle of world executives at senior level, personalities and celebrities. In September, 2008, Totalprestige Inc launched an online networking site TotalprestigeCommunity.com defined as "The Facebook for the Filthy Rich," in Wired Magazine and described as "The Network for High Society," in The NY Post and in Il Corriere della Sera
Rose Marie added, "We at Totalprestige we feel there's nothing better for business than a face-to-face meeting and a strong handshake. However, this is the Internet age and our online networking site is very useful for first contacts and breaking the ice"
As to the Gala Evenings , virtually all of these will be on behalf of the Totalprestige Foundation, including live auctions, and part of the proceeds will be donated to the aforementioned organizations.
Coming Galas announced by Totalprestige: The Red Diamond Dinner Ball, to be held in New York City on Thursday, April 23, and The Cinema Beach Gala -in partnership with Les Etoiles-, which will take place in Cannes on Saturday, May 23, during the Film Festival.
We asked Rose Marie to kindly explain what the Gala Evenings Season is all about:
"Many million-dollar contracts have just started to be negotiated in an informal, relaxed setting by people who had a glass of champagne or fine whiskey in their hands. This is exactly what we want to promote: more opportunities for our people to do more business while they enjoy high-end entertainment. This is our job at Totalprestige, and the Gala Evenings Season it's an opportunity for our members, clients, friends and partners to engage in professional and social relations, as well as a virtual key to open doors in new countries and markets."
###