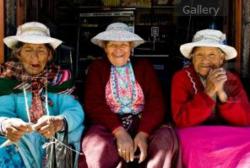 By joining this tour you are supporting Threads of Peru and other attempts to empower women in Peru & Bolivia.
(PRWEB) September 28, 2012
Viva Expeditions, Venus Adventures and Apus Peru have joined together to bring travellers exclusive women only tours of Peru! These three women owned and operated companies now offer two premium tour packages that are created especially for women who want to experience the beautiful culture and landscapes of Peru and Bolivia.
For woman ready for an adventure and would like to find themselves amongst the countries' impressive highlights, experiencing the cuisine and interacting amongst the woman of Peru and Bolivia; choose between the 24 day Andean Adventure of the 16 day Andean Explorer. Both tours travel from Lima to La Paz and include comfortable accommodation, transport in custom all-terrain expedition vehicles, meals, experienced female expedition leaders, National Park Entrance fees and more. When booking a tour with Viva Expeditions, guests can rest assured that from the minute they land in the airport to their very last sleep all they have to worry about is enjoying themselves and soaking up all these incredible countries have to offer.
Guests explore archaeological zones that date back to the 5th century, help prepare a meal in the poverty stricken area of Villa El Salvador alongside the mothers of the district and hear about their lives and stories, explore the 'palaeontologists treasure chest' outside Huacachina where they can find intact whale fossils fossilized sharks teeth and more. Viva Expeditions Peru tours will take women on a journey filled with mind opening learning experiences coupled with enjoyable activities such as a beautiful guided boat tour to a diverse marine reserve, to a traditional vineyard for wine tasting at and to learn about the production of Pisco, Perus' national drink, a trip to see the majestic Misti, Chachani and Pichupichu volcanoes and more.
Travellers visit the weaving centre within the Sacred Valley that keeps alive the strong tradition of textile arts and meet the family who dedicate their lives to honouring this trade. Differing from many tours, these woman only expeditions will take guests to some of the well-known destinations as well as some of the lesser known treasures that harbour a rich history, friendly locals and sacred stories.
Viva Expeditions' woman only tours are aimed to support the Threads of Peru organisation and attempt to empower the women in Peru and Bolivia. Embarking on this journey is not like your average South American Tour. It aims to connect women from different cultures and educate women about each other's life history and culture. These two exceptional tours promote women empowerment through knowledge and connection as well as encourage women to grow through adventure. For more information on their South America travel options visit Viva Expeditions today.