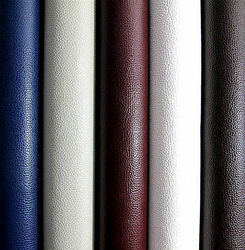 Johnstown, NY (Vocus) November 2, 2010
At NBAA 2010, Townsend Leather released news and samples of an exciting new process and new leather collection called the WET Leather Collection. WET Leather was developed by a proprietary process at Townsend Leather that makes the tips of these embossed leathers look like they have been kissed by raindrops, while still maintaining the softness and beauty of luxurious leather. The WET Leather collection glimmers with every reflection of light; some may say the look is similar to diamonds sparkling on leather.
WET Leather is available in 2 embossed looks called Mist and Dew and in a choice of 7 colors; WET Leather is made on whole cowhides of 55 – 60 SF. Custom colors are also available.
The design team at Townsend Leather was looking for something that could really make a splash for interior designs in any market: aviation, hospitality, or residential; WET Leather will add glamour and appeal to any design, with a depth of sheen that is truly striking.
Townsend Leather showcased this new WET Leather Collection along with a couple of other new products at NBAA 2010. An official launch party for the WET leather also took place during the NBAA show, off-premises.
For samples or for more information on WET Leather, contact Townsend Leather.
Townsend Leather is a 40-year-old U.S.-based manufacturer of upholstery hides and decorative leathers, supplying the A & D Residential and Hospitality, Home Furnishings, Corporate, Business, and Commercial Aviation, Motorcoach, and Yachting markets internationally. Townsend Leather prides itself on producing highest quality designer leathers that push the boundaries of what is possible with leather from the perspectives of color, texture, pattern, and cutting edge design.
For more information on Townsend Leather or WET Leather, contact us at townsendleather.com.
###