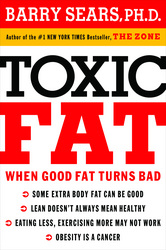 We need to look at foods we eat as powerful drugs that can either reduce inflammation or increase it.
New York (PRWEB) October 4, 2008
Dr. Barry Sears, author of the just released Toxic Fat, says, "If you're fat, it's not your fault. Being overweight isn't due to a lack of willpower; the problem lies in your genes."
Dr. Sears says, "Once you understand obesity from the perspective of being similar to a cancer, you begin to realize why 'eating less and exercising more' may never work for permanent weight loss."
Dr. Sears first made international news with his breakthrough New York Times #1 bestseller, The Zone, in which he laid out how a dietary balance of protein, carbohydrate and fat can alter the hormonal responses that control inflammation.
Now in Toxic Fat: When Good Fat Turns Bad he shows how our current pro-inflammatory diet has caused the activation of a "fat trap" in genetically predisposed individuals, while at the same time increasing hunger by changing levels of hormones in the brain that now override normal appetite suppression.
"To lose weight and keep it off requires rebalancing of hormonal signals in the brain. These signals have been radically altered by recent changes in the American diet induced by governmental agricultural policies started in the 1970s," Dr. Sears said. "We need to look at foods we eat as powerful drugs that can either reduce inflammation or increase it."
Dr. Sears also demonstrates that the reduction of inflammation can be as simple as 1-2-3. That is for every one gram of fat, you should consume two grams of protein, and three grams of carbohydrates; and you have to do it the best you can at every meal.
This is why Dr. Sears founded MedWell Foods, offering MedWell 1-2-3 healthy comfort foods people like to eat, including pasta, pastries, bagels, bread and cookies, each with a 1-2-3 composition coupled with great taste. Toxic fat is the underlying cause of increased inflammation, and thus MedWell Foods can help provide a dietary solution that is easily incorporated into everyone's current dietary habits. More information on MedWell can be found at http://www.MedWell123.com.
Toxic Fat describes the Perfect Nutritional Storm that has given rise to our current obesity epidemic while at the same time presenting a realistic way out of America's obesity epidemic driven by inflammation that threatens the nation's health care system. A synopsis of Toxic Fat can be found online at http://www.ToxicFatTheBook.com.
###