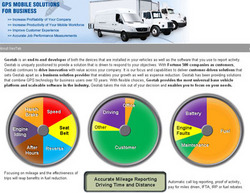 With 19 years of experience in wireless technology, GPS Mobile Solutions is uniquely qualified to provide a total fleet management solution
Raleigh, NC (PRWEB) December 2, 2008
GPS Mobile Solutions announces a new arrangement with GPS industry leader Geotab, Inc. Now that the economic downturn is making ROI, performance management and customer satisfaction crucial, the GPS vehicle tracking system is more important than ever.
To keep up with this demand and broaden its scope of products and services, GPS Mobile Solutions has entered into a new reseller relationship with the industry leader in GPS services, Geotab, Inc.
"With 19 years of experience in wireless technology, GPS Mobile Solutions is uniquely qualified to provide a total fleet management solution," says company president Stuart Lamm. "Our new relationship with GeoTab, Inc. lets us offer a solutions oriented, customizable GPS real time tracking solution.
"We can help the small construction company owner who asks, 'How can I track my fleet?' And we have ready the tools needed by the large multi-regional product delivery company with hundreds of vehicles and a vested interest in fleet cost savings," explains Lamm.
In addition to GeoTab, GPS Mobile Solutions offers Discrete Wireless fleet management services. Just this month they began offering the latest in GPS driver navigation utilizing the Garmin NUVI 650 navigation device that provides 2-way communication between dispatchers and vehicles. According to Lamm, if you want the ultimate in routing software, this is the best option on the market.
The new reseller agreement with GeoTab, Inc. will allow GPS Mobile Solutions to sell or lease the global industry leader's GPS vehicle tracking devices and "Go Mobile" software suite that turns any laptop into a GPS vehicle tracking system.
"Especially in these difficult economic times, our customers are very interested in our leasing option for equipment and installation. It's a great way to help keep the initial cash outlay at a minimum when investing in a GPS vehicle tracking system," explains Lamm.
Fleet management is beneficial to owners, dispatchers and drivers. The company website highlights these benefits and provides an ROI calculator that reveals how much GPS tracking saves. To learn more about tracking a large or small fleet, GPS device and system options, or the Return on Investment Calculator, visit gpsmobilesolutions.com.
About GPS Mobile Solutions:
The company began as a cellular phone dealer, focusing on small- and medium-sized businesses over the years. It has grown into a full communications company offering wireless, wireline, GPS fleet management, and IT services. GPS Mobile Solutions allows a business to effectively manage costs associated with a mobile workforce. The company plans to evolve into a nationwide presence in the mobile management solutions market.
###