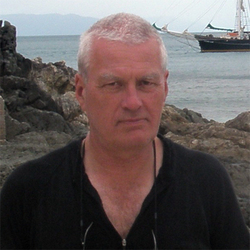 Elusive treasure is my quest
Northampton, MA (PRWEB) December 15, 2010
Tom Howard Books is pleased to announce the results from its seventh annual Margaret Reid Poetry Contest for Traditional Verse. Philip Brown of Wairarapa, New Zealand won first prize and $3,000 for his poem "South Sea Odyssey". Hundreds of entries were received from around the world.
"Elusive treasure is my quest," Brown's rhyming saga commences. Rather than a hunt for pirates' gold, however, his "South Sea Odyssey" is a search for insight into a unique and fabled place: Pitcairn Island, the remote hideaway where a few descendants of the "mutiny on the Bounty" maintain a community to this day.
The judges said, "Here is a poem that has everything judges look for in a top-winning entry... The poet describes his quest as 'elusive treasure' or even an 'idle thought', yet he has brought the mystery, the ideal and finally 'the exotic waste of paradise' into the reader's consciousness; or, as he himself describes it, he has made fantasy—at least fleetingly—tangible."
Second prize of $1,000 went to Elizabeth Davies of Cambridge, England. In "The Queen of the Sea", Davies memorably retells the Javanese legend of a beautiful, haughty dancer and the rejected suitor's curse that turned her into a sea monster. In lines arranged in sinuous curves, Davies draws a character who inspires compassion as well as fear.
Ellaraine Lockie of Sunnyvale, California won third prize and $400 for "Tao of Taos". This playful homage to a New Mexico cyber-cafe is peopled with New Age devotees who'd like to have it all: enlightenment, multicultural souvenirs, and good coffee.
Crystal-Angelee Burrell of Brooklyn, New York won fourth prize and $250 for "Groceries on the Path Unpaved", a taut narrative of a racist incident and its long-lasting impact on the guilty bystanders.
Most Highly Commended Awards of $150 went to Carmine Dandrea, Elizabeth Davies, Phill Doran (two awards), Ellaraine Lockie, Fred Kruger, Gregory Loselle, and Johnmichael Simon.
The top four winners and the Most Highly Commended entries are all published online at WinningWriters.com.
The Margaret Reid Poetry Contest for Traditional Verse accepts original poems of any length. Both published and unpublished works are accepted. Traditional verse is broadly defined as any form of poetry that has been in circulation for 50 years or more. This includes free verse. The eighth contest is now open for entries, with a postmark deadline of June 30, 2011. $5,550 in prize money will be awarded, including a top prize of $3,000. Entries are accepted both online and by mail. For guidelines, please see http://www.winningwriters.com/margaret/.
About Tom Howard Books and John H. Reid:
Contest sponsor and final judge John Howard Reid has himself won first prizes and other awards in prestigious literary events. A former journalist and magazine editor, he is the creator of Merryll Manning, the Miami-based police sergeant who made his debut in Merryll Manning: Trapped on Mystery Island. He has also published several historical novels, a collection of poetry, a guide to winning literary contests, and over fifty books of film criticism and movie history. He lives in Wyong, Australia. Mr. Reid is assisted in the judging by Dee C. Konrad. A leading educator and published author, Mrs. Konrad was Associate Professor in the English faculty of Barat College of DePaul University, and served as Dean of Liberal Arts and Sciences for the year 2000-2001.
About Winning Writers, Inc.:
Winning Writers assists Tom Howard Books with contest administration. We have been selected as one of the "101 Best Websites for Writers" by Writer's Digest for six years in a row (2005-2010). Our online database, Poetry Contest Insider, includes complete guidelines and rankings for over 750 poetry contests, plus over 300 of the top fiction and essay contests. Our free email newsletter offers news about quality free contests and literary resources.
Winning Writers was founded in 2001 by Jendi Reiter and Adam Cohen. Learn more at http://www.winningwriters.com/.
###