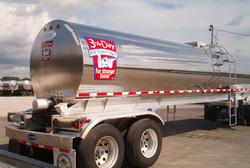 We estimate that SmartFleet will help us save $750,000 a year in transportation related costs through better utilization of assets
Edmonton, AB and Dallas, TX (PRWEB) February 9, 2009
Dairy Farmers of America (DFA) Southwest Area Council has chosen to implement the SmartFleet GPS trailer tracking system by Safefreight Technology. SmartFleet is being deployed on an initial 100 trailers in the DFA fleet that deliver bulk milk product across five states in the southwestern U.S.
DFA's key business objective in using the SmartFleet trailer tracking system is to enhance the efficiency of their supply chain to ensure that dairy products are delivered in an expeditious, cost-effective way on behalf of their members.
"We estimate that SmartFleet will help us save $750,000 a year in transportation related costs through better utilization of assets," said Jim Lee, General Manager of DFA's Southwest Area Council.
"We chose SmartFleet for its ease of implementation and broad range of functionality. It provides us with the visibility we need, through tracking and reports, to measurably improve the delivery of our dairy products," commented Lee. "SmartFleet also provides us with the tools we need to strengthen security and reduce our carbon footprint - two important benefits that enhance our role as stewards of the food supply chain."
This real-time fleet tracking technology also provides DFA with visibility into the detention time of their trailers at destination, which enables them to more effectively monitor and manage detention costs. Each time a trailer arrives or departs a "landmark" (a digital geo-fence around an area like a customer's yard) DFA's fleet managers receive actionable data through automatic notifications.
With the SmartFleet fleet management system, DFA has the ability to monitor their trailers in real time, detect and recover stolen trailers and identify when and where a trailer was dropped and unloaded. SmartFleet offers peace of mind that dairy products are being monitored and tracked at all times. This helps to reduce threats to the food chain and theft or misuse of trailers through the monitoring of unscheduled movement.
About Dairy Farmers of America:
Dairy Farmers of America, Inc. is a dairy marketing cooperative that serves and is owned by more than 18,000 dairy farmers in 48 states. DFA is one of the country's most diversified manufacturers of dairy products, food components and ingredients, and is a leader in formulating and packaging shelf-stable dairy products. For more information, call 1-888-DFA-MILK (332-6455).
About Safefreight:
Founded in 1998, Safefreight is the developer and provider of a GPS trailer tracking and fleet management system - SmartFleet. This mobile asset tracking technology comprises a GPS tracking device with asset-to-Internet capability, wireless communications and a web based fleet management software. SmartFleet provides the online tools to drive business performance by enhancing the safety, security and productivity of mobile assets.
###