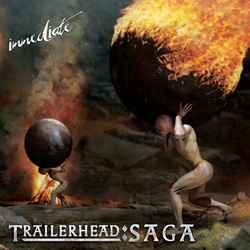 Los Angeles, CA (Vocus) July 20, 2010
Immediate releases follow up to successful trailer music album, Trailerhead, with an album of equally epic cinematic music, Trailerhead: Saga, released on July 20, 2010. The album is being distributed by BFM Digital, a leading digital music aggregator and distributor of independent music.
Trailerhead: Saga follows one of 2008's best-known trailer music releases, Trailerhead, which contains some of the most rousing, powerful and talked about music heard in movie theatres around the world. The album features 14 tracks of high impact, high emotion and high production value music that have been featured in worldwide trailers for Pirates of the Caribbean 3, X-Men 3, Night at the Museum, Monsters vs. Aliens and many more.
Immediate is widely acknowledged as Hollywood's preeminent producer of original music for major motion picture advertising, and pioneered the broad distribution of trailer music with the release of Trailerhead. The music, specifically created for use in film trailers, is reaching an enormous audience and generating a rapidly growing fan base eager for commercial releases of this astounding genre of modern orchestral music.
Immediate is passionate about creating the very highest quality modern epic music. Their music has been licensed worldwide and featured in hundred of trailers, commercials and television programs. Some of their most prestigious clients include every major motion picture studio including Paramount Pictures, Sony Pictures, Walt Disney Pictures, 20th Century Fox, DreamWorks, Universal and many TV networks, including CBS, NBC, ABC, FOX and HBO.
Imperativa Records, led by Emmy Award-winning composer and producer Yoav Goren, specializes in the production and release of original CD and online music, covering a broad spectrum of genres including soundtrack, rock, and contemporary classical. Imperativa sync licenses the label's masters into films, television shows, video games, movie trailers and TV commercials worldwide. The label offers music which blends a massive orchestral and choral sound with contemporary styles, accessible to today's wide ranging, music-loving audiences, and which is also highly sought after for product branding of all types.
For a review copy of the album, please contact Heather Noonan at BFM Digital: pr(at)bfmdigital(dot)com or 818-761-0191.
For more information, please visit: Imperativa Records
About BFM Digital, Inc.
BFM Digital is a global digital music company committed to serving the independent music community and delivering quality music, spoken word and video content to leading online retailers worldwide. Representing a diverse catalog of indie labels, artists and publishers, BFM distributes to all of the major music services including iTunes, Amazon, Rhapsody, eMusic, Napster, Walmart, Nokia and many more. With an unparalleled commitment to personalized service, BFM works closely with their content providers from around the world to ensure maximum exposure of their catalog by customizing marketing efforts and building strong relationships with BFM's digital store partners.
Press Contact:
Heather Noonan BFM Digital, Inc. Email: pr(at)bfmdigital(dot)com
###