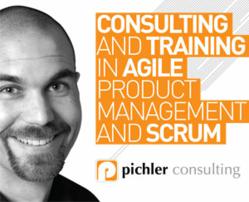 'I found the contents of the product owner course just right. This course has answered many questions for me. Roman is very approachable and has a good sense of humour.' - Paul Blewett, Yell.com
London, UK (PRWEB UK) 21 March 2013
Roman teaches agile classes for both new and experienced product managers. His Certified Scrum Product Owner course teaches practical techniques through instructions and hands-on exercises. Students learn what it takes to work as effective product owners. The Agile Product Management workshop demonstrates techniques learned from Lean Startup, Design Thinking, Kanban and Scrum through instructions and hands-on exercises to help product managers create innovative products.
Sessions will be held at 15 Hatfields, a venue close to Waterloo train station in London. Hotel accommodations are not included in the course fee. Follow this link to register or for more information about these and other lean and agile training courses,.
Roman Pichler's Agile training courses are popular and always fill up. Registering by 20 May will guarantee you a seat and save money. Get additional discount when registering to attend both classes.
Wolfgang Hilpert, Senior VP and Head of Product Management at SAP AG says, "Roman's agile product management course was the most valuable professional training I have participated in for quite a while. Very insightful, practical, thought provoking, and relevant to becoming an effective product owner."
About Roman Pichler
Roman is a leading expert on agile product management with an outstanding track record in teaching and coaching product managers and product owners. He is the author of three books on Agile and Scrum including "Agile Product Management with Scrum." Roman also writes about product owner topics in his popular blog All Things Product Owner. Learn more about his teaching style with this Introduction to Scrum video.