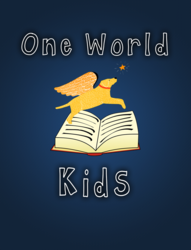 One World Kids is bridging cultures by delivering high quality content in multiple languages right to your fingertips' on your favorite devices," said Deb Beatty, Trajectory Project Manager
Bologna, Italy (PRWEB) March 26, 2013
Trajectory, Inc. today announced at the Bologna Children's Book Fair, the leading professional fair for children's books in the world, that One World Kids is now available on the Apple App Store. One World Kids consists of the finest children's books in English, Spanish, French, and Chinese, these beautifully written stories feature robust color illustrations that introduce the worlds greatest stories to readers of all ages. Trajectory is collaborating with iVerse Media and Apple, Inc. the leading provider of smartphones and tablets to deliver the digital works on the iPad, iPhone, and iPod touch.
The One World Kids app is free to download and features an extended preview of several books at no additional cost and includes in-app purchasing of full-length books for $.99 - $3.99 USD each. One World Kids is shipping with over 50 intelligently curated children's digital books with even more books added every month. Introductory 'discovery pricing' at $.99 cents USD for featured Staff Favorite titles including the Sally series. This app is made for tech-savvy families that wish to share global perspectives with their children helping to build a broader understanding and friendship between cultures from around the globe.
One World Kids is filled with adaptations that storytellers have passed down through folktales, fairytales, myths, epics, legends, and fables for hundreds, even thousands, of years to enlighten and entertain generations of readers, young and old. According to Albert Einstein, "If you want your children to be intelligent, read them fairy tales. If you want them to be more intelligent, read them more fairy tales." Contemporary stories are also included.
According to Jim Bryant, Trajectory's CEO, "Cultures are defined by their stories, myths, fables and legends. Trajectory's goal is to create a broader cross-cultural understand amongst children around the world. We hope to encourage children to wonder how their peers perceive themselves through the stories that are most familiar to them." These books are also available for purchase and download from iVerse Media IOS apps, Comics Plus and Comics+ Kids, found in iTunes.
"One World Kids is a brilliantly curated collection of the worlds best selling children's illustrated books. One World Kids is bridging cultures by delivering high quality content in multiple languages right to your fingertips' on your favorite devices," said Deb Beatty, Trajectory Project Manager.
About Trajectory, Inc.
Trajectory is a Cambridge, MA based technology and marketing oriented publishing and distribution services company that collaborates with leading authors, artists, and traditional publishers. The company has created a global multi-channel supply chain for eBooks and is now engaged in assisting other publishers in reaching new markets with new levels of efficiency. Trajectory has established relations with every leading eBook retailer around the world including Amazon, Apple, Barnes and Noble, Bokus, Chapters Indigo, Google play, Kalahari, Kobo Books, Tescoe Books, Whitcoulls, W.H. Smith and hundreds more. Trajectory titles may be viewed on; Apple iPad, iPhone, iTouch; Samsung Galaxy Note, Samsung Galaxy Tab, Samsung Galaxy S4, Sony Xperia Tablet, Sony eReader, Microsoft Surface, Kobo Vox, Kobo Arc, Kobo eReader, Barnes and Noble NOOK Tablet, NOOK Color, Google Nexus 10, Amazon Kindle Fire, Motorola CLIQ, DroidX, ZTE, Lenovo, HTC, Nokia, LG, Huawei and other Android tablets and smartphones. Become a fan of Trajectory on Facebook.
Press Contacts:
Deborah Beatty - Trajectory, Inc. (617) 564-1550
One Broadway – 17th floor, Cambridge, MA 02141 media(at)trajectory(dot)com