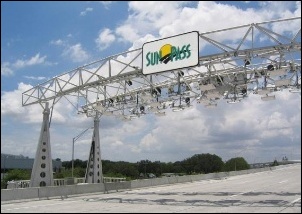 The project also eases congestion on the existing Selmon Expressway for cars and trucks using local exits by moving a significant portion of the downtown commuter traffic to the elevated lanes.
TAMPA, Fla., & HARRISBURG, Pa. (PRWEB) June 7, 2007
Opened in July 2006, this open road tolling project included the construction of approximately ten miles of elevated, reversible, limited-access (car-only) lanes in the median of the existing expressway from downtown Tampa east to Brandon and I-75. Because traffic on this route is highly directional - westbound in the morning, eastbound in the afternoon - the express lanes were made to be reversible. The new lanes add three lanes of capacity to the two inbound lanes in the morning and likewise for the outbound trip in the afternoon, providing an extraordinary 150 percent increase in capacity. Gateway arterial feeder roads are located at each end of the express lanes. Constructed as a three-lane concrete segmental bridge, the project features numerous transportation innovations including a major investment in intelligent transportation systems, including the newest TransCore RFID system and state-of-the art cameras on a dual gantry, at a single tolling point.
"This design allows commuters driving between Tampa, Fla., and nearby Brandon to make the rush-hour journey in approximately 10 minutes, compared to what used to take upwards of 30 minutes," said Martin Stone, director of planning for THCEA. "The project also eases congestion on the existing Selmon Expressway for cars and trucks using local exits by moving a significant portion of the downtown commuter traffic to the elevated lanes."
TransCore's Chief Operating Officer John Simler explained, "The Tampa Crosstown Expressway Bridge serves as a model for 21st century transportation design that's become critical to alleviating congestion and expanding capacity in major urban areas."
The second place TEAMFL award went to FIGG Engineering Group, the Florida-based firm that also was acknowledged for their design for the concrete segmental bridge, also on this same project.
About Tampa-Hillsborough County Expressway Authority
The Tampa-Hillsborough County Expressway Authority (THCEA) was established in 1963 by an act of Florida Legislation. It is an entity of the State of Florida, responsible for building, operating, and maintaining toll-financed expressways in Hillsborough County. THCEA operates the Lee Roy Selmon Crosstown Expressway, a 15-mile long main artery that runs from south Tampa through downtown to Brandon, Florida. Visit http://www.tampa-xway.com.
About TransCore
TransCore is dedicated to driving inefficiencies out of surface transportation through innovation. With products and installations in 46 countries, more than 100 patents worldwide, and pioneering applications of RFID and satellite communications technologies, TransCore's expertise is unparalleled in the transportation markets it serves. In 2007, Engineering News-Record (ENR) ranked TransCore No. 60 out of the Top 500 Design Firms and No. 11 for firms that specialize in transportation.
TransCore's Government Services Group specializes in applications tailored for toll collection and traffic management systems. The company's global experience includes more than 7,400 installed electronic toll collection lanes worldwide and 22 customer service centers. TransCore offers an extensive suite of enterprise software applications, business process outsourcing, system integration, and maintenance services to provide complete solutions configurable to customers' requirements. In 2005 the Delaware E-ZPass(SM) Service Center, which TransCore operates for the Delaware Department of Transportation, won the prestigious International Bridge Tunnel and Turnpike Association Toll Innovation and Excellence Award for outstanding performance.
TransCore operates as a unit of Roper Industries, a market-driven, diversified growth company with 2006 revenues of $1.7 billion and a market capitalization of over $4 billion. Roper is a component of the S&P Mid-Cap 400, Fortune 1000 and Russell 1000 Indexes and was recently ranked one of the Fastest Growing Technology Companies by Business 2.0 Magazine.
For more information, visit http://www.transcore.com.