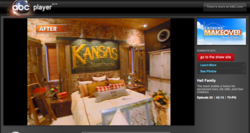 It is an honor for Transfer Master to see one of our home hospital beds contributing to the quality of Carl's life.
Wichita, KS (PRWEB) May 04, 2011
It's a phone call Transfer Master Founder and President Aaron Goldsmith will always remember. A producer from the hit ABC TV show Extreme Makeover: Home Edition was on the line and she was facing an urgent deadline. She needed to know if Transfer Master could provide an adjustable home hospital bed that was also voice-controlled. The bed would be used in an upcoming episode featuring Carl Hill, a former Wichita State baseball player and father of four who was tragically paralyzed below the shoulders in an auto accident.
Goldsmith told the producer that building the bed wasn't a problem – selling custom built beds to customers is what the company does all time. The show needed the bed in 24 hours. These types of beds usually take 10 working days to build, but he was confident in the company's ability and said they would build the bed in time for their production.
On April 17, America watched the story of Carl Hall and his family – and witnessed how they have coped and dealt with a tragedy few people can comprehend. And they also saw how the Wichita community rallied behind the show to help build a new home tailored for Carl and his family that will better allow him to cope with his condition. Included in the home was Transfer Master's bed, which was shown and mentioned for its ability to be adjusted up and down with Carl's verbal commands.
The home features 250 additional voice activation controls, an elevator, a therapy room, movie theater, indoor sports room, and a batting cage that allows Carl to once again pitch to his own son.
"It is an honor for Transfer Master to see one of our home hospital beds contributing to the quality of Carl's life," said Goldsmith. "We have been fortunate to have helped many patients with challenging situations since 1993 and we look forward to continuing to provide sleep solutions for those in need." Transfer Master adjustable home hospital beds can include special electrical outlets and hooks at the end of the bed that make it easier for healthcare professionals to plug in and hang monitoring and related equipment (keeping it safely out of the way). Transfer Master has also created custom remote controls that include a safety pin feature (to avoid accidental use by others), as well as bedsides made of cherrywood that match the décor of the Hospital Family Care Suites.
About Transfer Master
Founded in 1993 in Postville, Iowa, Transfer Master engineers electric beds for sleep centers and pregnancy wards, hospitals and home use. For Transfer Master, customer-driven design and innovation is paramount. Each bed is custom designed and hand-built for the user. The company received the industry's first patent in 1993 for combining adjustable medical bed functionality with home use design as well as for creating the first specialized dual-use King beds.
The company builds beds that are low enough for users to transfer in and out of, but high enough for caregivers to easily access. Domestically designed and manufactured, Transfer Master beds are durable, comfortable and attractive, providing customers with the functionality and comfort they deserve.
Transfer Master listens to customers and builds its beds specifically to meet the precise needs of each user. The electronic boards of the newest models were designed by a U.S. defense contractor. The beds are innovatively designed and solidly manufactured, creating a long-lasting product that allows its users the features they need and the comfort they deserve.
To find out more, please visit http://www.transfermaster.com. Visit us on Facebook and follow us on Twitter.
CONTACT:
David Kaufer
Zenwerks
206-262-7302
david(dot)kaufer(at)zenwerks(dot)com
# # #