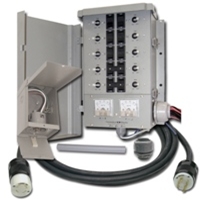 Safely transfer generator power to utility power. Choose the circuits you want enabled during a power outage.
Issaquah, WA (PRWEB) March 13, 2013
TheHardwareCity.com, a leading online retailer of hardware, home maintenance and electrical equipment, is announcing the availability of the technologically-advanced Connecticut Electric Circuit Generator Manual Transfer Switch Kit. The product offers a broad array of features, and allows users to safely transfer generator power to utility power. The equipment lets the operator select the circuits they would like to be enabled during a power outage.
TheHardwareCity.com is announcing the release of this safe and useful product just as spring is approaching throughout the country—meaning uncertain weather conditions that often leave homeowners without power for extended periods of times. Through the United States, spring means strong storms, flooding, and even tornadoes, so Asha Rani, of TheHardwareCity.com, reports it's a time when many people are looking for generators and the accompanying equipment.
"This is the time of year when we see an increased demand for products that are going to allow homeowners to have power, even during a power outage," said Rani. "Our Connecticut Electric transfer switch kit offers the utmost in safety, as well as the ability to manually select which utilities you want to operate in your home at any given time, regardless of widespread power outages."
The generator manual transfer switch kit is not only safe for use, but also is easy to install. The kit is prewired, leading to a more simplified and efficient installation process. The kit has side installation bars, allowing for an easy surface mount. Additionally, the kit features a rain and waterproof design, making it ideal for indoor and outdoor installation. The kit is designed for use with 120/240 volt generators that are rated up to 30 amps. It features ten circuits and a built-in wattage meter that allows for load balancing. A double throw switch eliminates power back-feeding after the restoration of power.
"Now is a great time for consumers to start preparing for the potentially hazardous weather of spring and summer," said Rani. "We're excited to be able to offer this incredibly useful and easy-to-install product to our customers, as well as a full range of other supplies that are useful during power outages."
For more information about this product, or any other product, visit http://www.thehardwarecity.com.
About TheHardwareCity.com
TheHardwareCity.com is an online retailer of a range of products, including building and electrical supplies, tools, household supplies, and lawn and automotive supplies. The company strives to provide customers with not only the most high-quality and technologically-advanced products, but also the best value. In business since 2007, TheHardwareCity.com has become the premiere destination for all things home, lawn and automotive related. Additionally, TheHardwareCity.com offers live assistance online, Monday through Saturday.