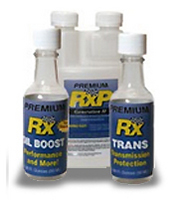 Dallas (Vocus) January 14, 2009
RXP Oil Boost and RXP Trans has just made their way to the marketplace, thanks to EcoRadiant Technology. The products are used by those who want to get better performance and increased longevity out of their vehicles. In addition, they are eco friendly products.
EcoRadiant Technology (http://www.ecoradianttechnology.com) has just announced it is offering RXP Oil and RXP Trans to their customers. The two products are both bringing excitement to drivers that are looking to get more out of their vehicles. The products help vehicles hold up over time by helping combat normal wear and tear and keeping the vehicle in good running shape.
Both products work to keep vehicles out of the repair shop. They are able to combat the normal problems vehicles have, thus saving a great deal in repair bills.
RXP Oil Boost has been used in by major oil companies for years to prevent equipment failure. Now, for the first time, it is available to the consumer. This product has many features, including a decrease in the wear in the engine, and also an increase in acceleration.
Those who use the product also report it makes vehicles easier to start in cold weather. Those who have a vehicle that does not start well when it is cold out can benefit from RXP Oil Boost.
Another exciting aspect of RXP Oil Boost is it improves the gas mileage of the vehicle. This is very exciting for drivers as they fight against another expected rise in gas prices. The best gas mileage occurs when this product is combined with RXP Generation II. RXP Generation II is another product that is available by EcoRadiant Technology (http://www.ecoradianttechnology.com).
RXP Trans also has a lot of features that have caused excitement. Transmission repair on automatic transmissions can be costly, and most drivers want to avoid it at all costs. RXP Trans helps the vehicle's transmission stay in good shape, thus resulting in fewer repairs. In addition, it helps the transmission run cooler.
People who use the product find they can get much more use out of their transmissions. They do not have to replace their transmissions when they normally would, and they also do not have to get them repaired as often as normal. Because of that, consumers are able to save a great deal of money.
Both products were made with the environment in mind. EcoRadiant Technology only works with green products. The products in their inventory have all been selected because of their eco friendly qualities.
Those interested in learning more about the products or making a purchase can visit them online at http://www.ecoradianttechnology.com.
EcoRadiant Technology has a strong focus on green products and technology. They provide products for vehicles, homes and plants, and also provide products such as shampoo. They focus on natural, environmentally friendly products. They have an extensive list of eco friendly products available for sale on their website and through distributors.
For additional information on EcoRadiant Technology
http://www.ecoradianttechnology.com
or contact:
Kate McGill
EcoRadiant Technology
214-466-6699
###