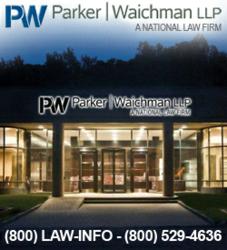 This verdict is a victory that will help support the thousands of other claims alleging that J&J's transvaginal mesh caused debilitating injuries
(PRWEB) March 04, 2013
Parker Waichman LLP, a national law firm dedicated to protecting the rights of victims injured by defective medical devices, is weighing-in on the $11.1 million verdict awarded to the Plaintiff in the first Prolift transvaginal mesh lawsuit to go to trial (Gross v. Gynecare Inc., Atl-L-6966-10, Superior Court of Atlantic County, New Jersey). According to a Bloomberg report published on February 28th, jurors in Atlantic County Superior Court awarded $7.76 million in punitive damages to Plaintiff Linda Gross, on top of the $3.35 million in compensatory damages awarded on Monday.
http://www.bloomberg.com/news/2013-02-28/j-j-owes-7-76-million-in-punitives-in-vaginal-mesh-case.html
"This verdict is a victory that will help support the thousands of other claims alleging that J&J's transvaginal mesh caused debilitating injuries," said Parker Waichman LLP. "By awarding this verdict to Gross, jurors have told Johnson & Johnson that they cannot get away with placing company profits over patient safety."
Linda Gross sued Johnson & Johnson's Ethicon unit over her Gynecare Prolift transvaginal mesh, which is intended to treat pelvic organ prolapse and stress urinary incontinence by strengthening the pelvic walls and muscles. Bloomberg reports that her lawsuit was the first of 4,000 to go to trial, including 2,100 in New Jersey. On Monday February 25th, jurors awarded $3.35 million in compensatory damages to Gross, ruling that Johnson & Johnson had failed to adequately warn her and her doctor about the risks of the mesh device. Gross had alleged in her lawsuit that the Prolift transvaginal mesh caused chronic pain and other severe complications leading to 18 unsuccessful surgeries in attempt to correct her pelvic problems.
According to Bloomberg, attorneys for Gross had called on forensic economic expert Frank Tinari, who testified that J&J had assets of $121.3 billion and a net worth of $64.8 billion. Tinari also said that the company spent over $20 billion on advertising last year, or approximately $57 million a day.
Johnson & Johnson recently revealed in a regulatory filing that the government is conducting an investigation over the way the company marketed the Prolift, according to Bloomberg. The filing also said a separate investigation was being conducted over the DePuy ASR hip implant, which was recalled in 2010 due to a high failure rate.
http://www.businessweek.com/news/2013-02-22/j-and-j-discloses-government-investigations-of-hips-mesh
The U.S. Food and Drug Administration (FDA) reports that the most common complications associated with transvaginal mesh include:

Mesh erosion through the vagina (also called exposure, extrusion, protrusion)
Pain
Infection
Bleeding
Pain during sexual intercourse (dyapareunia)
Organ perforation
Urinary problems
The agency has stated that adverse events linked to transvaginal mesh implants are "not rare" and warned that use of such devices may actually be more harmful compared to alternative methods for treating pelvic organ prolapse. The FDA has also asked 33 manufacturers, including Johnson & Johnson, to conduct post-market safety studies in order to investigate the effect of vaginal mesh on organ damage and other health concerns.
Parker Waichman LLP continues to offer free lawsuit consultations to victims of transvaginal mesh injuries. If you or a loved one experienced complications following POP and SUI surgery with mesh, please visit the firm's transvaginal mesh injury page at yourlawyer.com. Free case evaluations are also available by calling 1 800 LAW INFO (1-800-529-4636)
Contact: Parker Waichman LLP
Gary Falkowitz, Managing Attorney
(800) LAW-INFO
(800) 529-4636
http://www.yourlawyer.com