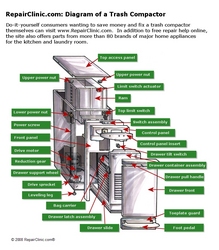 Broken glass can easily tear through the bottom and sides of bags and cause injuries. We can help consumers repair their trash compactor—but not their cut hand.
Canton, Mich. (PRWEB) April 18, 2008
Trash-talk is not only reserved for sporting events. In many kitchens across the U.S., trash compactor owners boast about this appliance's environmental and labor-saving benefits. The trash compactor compresses household waste so that two to three times as much trash fits in the same size bag. RepairClinic.com provides do-it-yourself consumers with trash compactor parts, maintenance tips, and free online repair help in order to keep trash compactors running longer and more effectively.
"Although you can put glass bottles and jars into your compactor, we recommend using a community glass recycling program instead," says Chris Hall, president and co-founder of RepairClinic.com, Canton, Mich. "Broken glass can easily tear through the bottom and sides of bags and cause injuries. We can help consumers repair their trash compactor—but not their cut hand."
Aside from routine cleaning of the chute and other surfaces touched by garbage, trash compactors are mostly maintenance free. RepairClinic.com offers products such as bacteria-fighting disinfectants, replacement filters, compactor bags made from 50% post-consumer recycled plastic, and a bag carrier to tote garbage to the curb. The web site contains parts photos, appliance diagrams, free repair help online, and trash compactor information like the following:

A trash compactor has basically three components: A trash container at the bottom of the unit; a flat, steel ram in the top of the unit that flattens the trash; and a motor that can be located either at the top or bottom of the unit depending on the model.
If the trash compactor is not working, first check electrical sources: Does the wall socket work when something else is plugged in? If the compactor is plugged into a "ground fault interrupter" socket you may need to press the reset button if it's popped-out.
If the power source is working and the compactor still does not function, the problem may be with the door switch, key switch, or the micro switches that sense when the ram is fully up. Make sure nothing is caught behind the drawer—keeping it from closing all the way. If the ram is stuck in an up or down position, there may be a broken drive belt, chain, gear, or switch. RepairClinic.com's RepairGuru® service can help DIY consumers troubleshoot the more complex problems.
Over time, spills and garbage can clog the track the drawer rides on. If the drawer can be removed, clean the tracks, glides, and rollers using a degreaser and dish detergent on a damp rag. Wipe all the components with a clean damp rag and lightly oil the track with a household lubricant. If the drawer continues to be stiff, replace the rollers, ball-bearings, and/or tracks. (Ball-bearings for trash compactor drawer tracks are one of the most in-demand items purchased through RepairClinic.com.)
"Trash compactors can be tough to work on because they are, themselves, compact," explains Hall. Consult your repair manual and avoid personal injury—or even death—by always disconnecting your appliance from its power source before doing repair work. Use caution when working on an appliance and beware of components with sharp edges, also.
To provide on-air repair help for major home appliances for the kitchen and laundry room, RepairClinic.com's vice president, John Sowden, hosts "The Appliance Repair Show" every Sunday on News/Talk 760 WJR Radio in Detroit from 9 a.m. to 10 a.m. ET. DIY listeners across the U.S. can access the popular show via the radio station's "Listen Live" area on their website, wjr.com.
Founded in Canton, Mich., in 1999, RepairClinic.com® is the most comprehensive online resource for do-it-yourself home appliance repair help, parts and information. The site features more than 80 appliance brands—including Kenmore, Whirlpool, Maytag, GE, Frigidaire, and LG—across 16 appliance types (e.g., washers, dryers, refrigerators, stoves, ovens, and dishwashers). Do-it-yourselfers use the intuitive database, PartDetective®, to find the part they need or the leading-edge service, RepairGuru®, for customized, free repair help. Appliance parts are stocked in a 72,000 sq. ft. facility and shipped the same business day. Visit RepairClinic.com for more information.
###