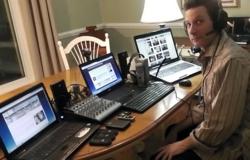 I have more than 500 overnight stays in the world's best hotel suites, so I make informed recommendations
Los Angeles, California (PRWEB) April 13, 2013
Brian Daniel, founder of TravelRaven.com, and personal concierge to Hollywood A-list, billionaires and royalty, opens his travel blog to share some travel secrets and other once in a lifetime experiences while jet-setting the world.
While many people dream of jetting around the planet in private jets and staying in the best hotels in the world, Brian Daniel experiences the best of the best on a regular basis; but, for the rest of us, there's no need to fret because travel secrets are only a click away through the new Travel Raven blog.
Lifestyle Management and concierge services are some of the most sought after perks in luxury travel, yet getting personalized service from an experienced travel agent is difficult at best. Even credit card and cell phone companies are now offering "global concierge services," but calling that 800 number usually just routes clients' queries to the nearest call center where the agent sitting behind the desk will just likely do an internet search to find the desired information.
When making travel recommendations, Brian Daniel (also known as the "travel agent to the stars"), uses his vast first-hand knowledge of traveling the world. As a former lifestyle manager to some of the world's most powerful and influential individuals, Daniel has exhaustive experience to reach from.
"I'm regularly working with celebrity personal assistants, travel agents and other private concierge companies to be in the know about what's happening in travel," says Daniel. "So when I make recommendations about chartering private jets, renting yachts or staying in the best hotels in the world, it's not something done on a whim."
ABOUT THE COMPANY
Brian Daniel started his illustrious career in the luxury hotel industry and has catered to some of the world's highest-profile celebrities, billionaires and high net worth families. After working as a personal assistant to celebrities and business moguls, Brian became a personal concierge to a royal family and traveled the world extensively: North America, Asia, Europe and the Middle East – always traveling by private jets or first class. Because he has more than 500 overnight stays in the best hotels in the world, Brian has a perspective that most travel agents can't match. TravelRaven.com serves clients in all major markets including but not limited to Los Angeles, San Francisco, Las Vegas, Chicago, New York City, Washington DC, and Miami.