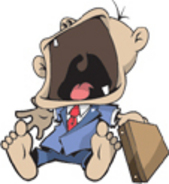 "If a cruise is scheduled to sail into questionable waters, passengers should arm themselves with information about the threat and look for appropriate travel insurance."
St. Pete Beach, FL (PRWEB) November 5, 2009 - Mounting concern over piracy's threat to global cruises should be a wake-
up call to all cruise travelers. World cruise passengers are encouraged to seek travel insurance capable of covering losses due to a canceled or diverted itinerary or even a hijacking attempt if they sail on risky African routes, according to Squaremouth.com, America's fastest growing comparison website for travel insurance.
Cruise companies Seabourn, MSC, Fred. Olsen and Peter Deilmann have all announced changes to upcoming sailings that are aimed at keeping passenger ships away from global hotspots where piracy is becoming rampant.
And most cruise companies cite unsafe routes between otherwise friendly ports of call as the main reason for rerouting their ships, said Chris Harvey, chief executive of Squaremouth.com
"Cruise travelers need to be aware that the industry itself is worried about this surge in African piracy," said Harvey. "If a cruise is scheduled to sail into questionable waters, passengers should arm themselves with information about the threat and look for appropriate travel insurance."
Thugs in speedboats tried to take over the MSC Melody in April, but the cruise ship's security staff returned fire and rebuffed the pirates before anyone was injured.
That failed hijacking, plus another in November 2005, about 100 miles from the Somali coast as the Seabourn Spirit headed for Mombasa, Kenya, recently prompted Seabourn to announce the cancellation of several African and Indian Ocean sailings by its Seabourn Legend in 2010 and 2011. The 208-passenger vessel will travel in the Caribbean between St. Thomas and Fort Lauderdale instead.
Harvey said travel insurance providers are aware of the implications of increased piracy for the cruise industry. Cruise ships on lengthy "world voyages" often travel through the Gulf of Aden as a convenient bridge between the Mediterranean and Asia, even though this stretch of the Arabian Sea in the Horn of Africa is a favored pirate hunting zone.
"Some travel insurance plans don't specifically cover for loss due to acts of piracy," said Harvey, adding that some policies may indirectly protect cruise trip investments from piracy-related threats, "so don't be afraid to ask tough questions of your insurer about the coverage you are entitled to."
Some related coverage is afforded by these carriers:
DISCLAIMER: Descriptions below serve to illustrate the range of definitions and coverage that travel insurance affords in the case of cruise ship piracy. Customers should refer to their policy's fine print and ask the insurance provider directly to verify specifics of the coverage that applies to them.
Travelex policies don't mention the term piracy specifically. But Travelex says its plans are eligible for coverage when a felonious assault or illegal act of violence takes place at sea. Travel Basic, Travel Select and Travel Max offer trip cancellation and trip interruption coverage that provides a benefit if the policy holder is prevented from taking or forced to cut short a trip because they or a travel companion have been hijacked or are the victim of a violent assault. Similar coverage applies to holders of Travel Plus & TraveLite plans.
Travel Guard plans generally provide coverage for trip cancellation, trip interruption, missed connection and travel delay due to hijacking. Travelers who are concerned about piracy and purchase a Travel Guard plan with optional "Cancel for Any Reason" coverage should refer to their policy to see under what circumstances they are covered for trip cancellation, according to the company.
CSA's Custom Plan provides trip cancellation, trip interruption, missed connection and travel delay coverage in the case of a hijacking, with some restrictions. For example, to qualify for trip cancellation or interruption, a policy holder or companion must personally have been hijacked. If a cruise or tour departure is missed, however, coverage applies even if the hijacking didn't happen to the policyholder directly. Travel delay coverage is similar: benefits kick in when a trip is delayed six or more hours due to a hijacking, and not necessarily a personal attack on the policyholder. Depending on the circumstances, there could be reimbursement for unused land and water arrangements or any extraordinary cost to return home, plus hotel and meal expenses while delayed.
Travel Insured does not provide cancellation insurance for piracy. Travelers would need to buy a Cancel for Any Reason upgrade which reimburses up to 75 percent of the insured trip cost when cancellation is due to something other than a covered reason. This coverage would be useful when, for instance, an insured person cancels their trip over piracy fears or as a result of an act of piracy. Claims would be reviewed individually: for example, if a cruise ship were delayed because of a hijacking, it could trigger coverage under the Trip Delay benefit based on a delay of the so-called 'common carrier.' If an insured cruise passenger were injured as a result of piracy while on board, medical expenses might be claimed. Piracy and hijackings don't qualify as terrorism per se.
About Squaremouth
Squaremouth is America's fastest growing travel insurance comparison site, helping customers instantly quote, compare and buy policies from every major carrier. Squaremouth has web sites in the US and UK, and an extensive network of partner sites worldwide. The company is headquartered in St Pete Beach, FL., with offices in Fort Wayne, IN. Visit Squaremouth.com or Squaremouth.co.uk.
About our Zero Complaint Guarantee
The cornerstone of our commitment to customers is Squaremouth's guarantee to remove any company from our website if there is a customer complaint that cannot be resolved to our satisfaction. Squaremouth offers the broadest selection of insurance with an emphasis on quality and follow-up care in companies featured. We also factor in independent evaluation from the insurance industry watchdog AM Best.
Squaremouth offers products from the following travel insurance carriers:
CSA, Global Alert Admin, Global Rescue, Global Underwriters, HTH Worldwide, ITravelInsured, Medex, Medjet Assist, MH Ross, Multinational Underwriters (MNU), On Call International, Seven Corners, Travel Guard, Travel Insurance Services, Travel Insured, Travelers Liberty, Travelex, TravelSafe and USA Assist.
AVAILABLE TOPIC EXPERT:
Chris Harvey
charvey (at) squaremouth (dot) com
Toll-free (800) 240-0369
Direct (727) 490-5802
U.S. travel insurance - http://www.squaremouth.com
U.K. travel insurance - http://www.squaremouth.co.uk
International Medical Insurance - http://www.squaremouth.com/international-medical-insurance
###