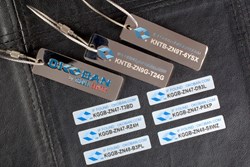 Now, with Okoban and mystufflostandfound.com any lost cell phone or other valuable can find its owner. Often, the lost valuable finds the owner before the owner realizes the item is lost.
Atlanta, Geogia (PRWEB) June 11, 2013
Whether it's for business or pleasure, even a minor mishap can ruin a trip. The following travel tips from mystufflostandfound.com will help insure a disaster free travel experience.
Don't Overdo It
Don't over-pack. With ever increasing airline baggage fees, lugging around hefty luggage can be tiring and expensive. Check the local weather and pack what "will" be needed not what "might" be needed.
Don't over-plan, attempting to do so much that you end up too tired to enjoy it. Schedule at least a little down time. Sometimes the best memories start where the itinerary ends.
Arriving at the airport "just in time" can be a disaster. Printing a boarding pass at home doesn't guarantee a smooth and speedy boarding procedure. Assume there will be security or other delays. Leaving too little time between flight connections can also be a gamble. Consider two hours between flights a minimum.
Electronics and How to Protect Them
Don't end a vacation with a triple digit phone bill due to unexpected roaming charges. Reread phone plans and consider adjusting them prior to a trip.
Taking a laptop or tablet can be a fantastic way to share a vacation experience with friends and family through Skype and social media sites. If problems arise with accommodations or other travel details, access to the Internet can literally save the trip. Watching films on long flights and backing up photos are additional benefits. Be sure to password protect all sensitive information in case the laptop or tablet falls into the wrong hands.
If a new camera taken, be sure to practice with it and learn how to use the features BEFORE leaving. Know how it will be recharged on the road.
One risk of taking electronics is the potential for loss. More than 12,000 laptops are left behind at airport security checkpoints every week in the U.S. alone. The number of lost phones in the U.S. each year is about 30 million. Almost all "lost" items do get found by someone, unfortunately less than one-third of these are returned because finding the owner is just too difficult. Most finders, including the TSA, will return the items if there is a simple, secure way to connect with the owner.
For just a few dollars, Okoban tracker tags from mystufflostandfound.com add protection and security for laptops, phones, keys, cameras, passports, credit cards, luggage and other valuables. They connect finders with owners quickly, securely and privately, anywhere in the world. Finders simply enter the tracker tag's Unique Identification (UID) code and the recovery location on the Okoban website. The system then immediately notifies the owner, anywhere in the world, with a secure email and text message of the found valuable and its recovery location.
Prepare for the Unexpected
Check insurance policies before departure. Know what is and is not covered in health, auto and homeowners insurance policies.
Have duplicate photocopies of passports, documentation, itineraries and reservations.
Notify credit card companies of travel plans. For security reasons cards will often be placed on hold if purchases start to show up from distant areas or foreign countries. Check to be sure ATM cards will work while traveling.
Before arriving, learn basic words like "help" and "fire," in the local language. Know the local equivalent of 911.
Be sure to protect valuables from loss with Okoban tracker tags from mystufflostandfound.com. "Now, with Okoban and mystufflostandfound.com any lost cell phone or other valuable can find its owner," says Gordon Burns, CEO of My Stuff Lost and Found. "Often, the lost valuable finds the owner before the owner realizes the item is lost," says Burns.
The worldwide Okoban notification service, linked to the SITA/IATA World Tracer system, operates in 2,200+ airports, on 400+ airlines and in thousands of "frequent finder" locations, institutional lost and found facilities such as TSA, rail, maritime, coach, car rental and hotel companies.
My Stuff Lost and Found, founded in 2012, provides convenient worldwide online sales and service of Okoban's sturdy tracker tags for laptops, phones, tablets, passports, luggage, cameras, pets and other valuables. Mystufflostandfound.com is the online gateway to Okoban's tracking service for valuables and free global lost and found service for life. Purchase Okoban online at http://www.mystufflostandfound.com.