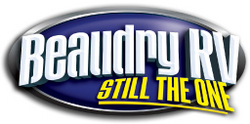 Americans seem to be re-discovering the beauty in their own backyard
Phoenix, AZ (Vocus) August 2, 2010
Beaudry RV Company Announces Staycations are here to stay. The term 'staycation' grew out of the recession and refers to vacations taken closer to home. Staycations evolved as a means to take vacations without the usual cost associated with air and hotel travel. The worst of the recession still plagues many Americans and has created a cautious consumer who is looking for travel deals and economical lodging.
The RV Industry has been a key indicator for the economy. Because RVs from Class A to Class C motorhomes are big ticket items, the turnaround in consumer buying trends has been seen as a boon to the economy. From the first trade shows of the year, consumers were showing up in increasing numbers. Their buying patterns have varied greatly with a sharp interest veering towards lightweight economical travel trailers and campers, which fits with the current travel trends.
Persuadable Research Group recently conducted a survey that found about 70% of people were planning on driving to their vacations destinations as opposed to flying. Those interviewed were looking for deals on the road and RV campgrounds offer exactly that. By taking a family to an RV campground, even staying in Park Models will run a lot less than staying in a hotel five star hotel for the night. Family savings can be huge with RV Travel.
Gas costs for RV staycations work out to a lot less than air travel. Campground reservation numbers have increased over last year and business are thriving.
With RV parks offering everything from environmentally features to fishing and kids entertainment, there's not much more a family could ask for.
"Americans seem to be re-discovering the beauty in their own backyard," said Scott Beaudry of Beaudry RV Company. "We're just happy that people are returning to RV travel. RVing has been a way of life for a lot of Americans for a century now. When times are tough, the simple pleasures become more valued, like family bonding and exploring the places close to home. It's what RVing has always stood for."
Beaudry RV Company has been a leader in the RV Industry for over 40 years. Their customer service, parts department and summer events set them apart from other RV companies. They carry an extensive selection of Class A, Class B and Class C Motorhomes.
For more information on new and used RVs and Beaudry RV Company or current trends in the industry contact:
Scott Beaudry
Company: Beaudry RV Company
http://www.BeaudryRv.com
Phone: 520-239-5054
# # #