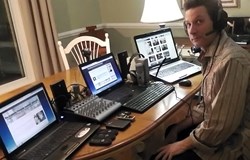 As a former travel manager to a jet-set royal family, I have more than 500 overnight stays in the world's best properties
Los Angeles, California (PRWEB) March 28, 2013
Brian Daniel -- founder and director of The Celebrity Personal Assistant Network -- has been placing personal assistants with high net worth families since 2007, and has now added global concierge services for his star clients.
As a former executive personal assistant to celebrities, billionaires and royal families, Daniel has a unique perspective into the secret world that only the top 1% experiences. "Not only have I trekked extensively throughout the world as a travel manager for the Saudi royal family, I come from a five-star hotel background," says Daniel. "So, assisting my high net worth clients with travel secrets is something that comes naturally to me."
After launching his headhunting outfit that caters exclusively to the jet-set crowd, Daniel was regularly contacted by celebrity assistants in his worldwide network about once-in-a-lifetime experiences for their bosses. "I continue to support my candidates even after a placement is made," says Daniel, "Because, I know what it's like to have your boss suddenly say he wants to go to Dubai and you only have a day to plan the trip."
Part of Daniel's inspiration for starting The Celebrity Personal Assistant Network was due to the fact that personal assistants don't typically have a support system in other cities when they are traveling with their celebrity bosses. As a travel concierge for the royal Saudis, Daniel would have to assemble a team of drivers, security personnel, and subordinate assistants every time they landed in a new city – and that doesn't even count the hotel booking, which often involved reserving a whole floor of suites at the best five-star hotel in town.
Because of the explosion of super-wealthy in the world (over 1,200 billionaires), travel adventures to exotic destinations are increasingly being handled by specialists like Brian Daniel – who has more than 500 overnight stays in the world's best hotel suites. "How can a travel agent make a hotel recommendation to a client if they have never even experienced the product for themselves," says Daniel. First-hand knowledge is the key to pleasing discerning clients, but most luxury travel agencies focus on scoring commissions, and that's not best for the client. For VIPs who want to travel the world, having travel secrets at one's fingertips is critical because online reviews for travel websites are unreliable at best.
Since Daniel's Network isn't officially a travel agency, the concierge services are invite-only. The main prerequisite for access to 24/7 lifestyle management is a strong referral from a current client. Services include but are not limited to private jet charters and purchases, mansion rentals and sales, invite-only and sold out events, Yacht charters and sales, red carpet support and event planning, exotic car rental and rare automobile purchases, Island and castle rentals, and other once in a lifetime experiences.
For more information about Brian Daniel and his network, visit http://www.TravelRaven.com. The company currently serves clients in all markets including but not limited to Los Angeles, New York City, San Francisco, Las Vegas, Chicago and Miami – as well as other major international cities like Dubai, Paris, Rome and London.