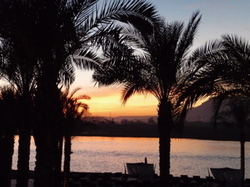 San Francisco, CA (PRWEB) May 1, 2009
As global health officials and governments rush to contain the spread of swine flu, the US Government is advising people to cancel all non-essential travel to Mexico. That warning, combined with the recent earthquake and concerns over safety in general, has many travelers rethinking their plans for travel to Mexico.
Now may not be the right time to visit Mexico; however, travelers don't need to put their vacations on hold, advises Jim Hornthal, founder and chairman of Triporati, Inc., the online travel site that offers personalized travel recommendations from some of the world's leading travel experts.
"Obviously travelers have a reason to be concerned about traveling to Mexico at this time, but that doesn't mean they have to abandon their dream vacation. There are a lot of alternative destinations that offer equally exciting and unique travel experiences," declares Hornthal.
Triporati has identified a list of compelling domestic and international destinations that offer comparable experiences to the primary Mexican tourist locations, through its unique and proprietary Destination Discovery engine.
Honeymoons in Cancun and kayaking adventures in Baja Mexico are just a few of the vacation options that some travelers may have been planning for months or even years. Instead of Cancun, Triporati suggests that travelers consider the US Virgin Islands, Aruba, Rimini, Italy or even Fort Lauderdale, Florida. Costa Rica's Gold Coast, Bonaire or Fiji would be good alternatives to Baja Mexico. For a complete list of the Triporati recommendations, simply visit http://www.triporati.com or http://www.mexicoalternatives.com.
In the face of challenging economic times and the current health crisis, travelers may be wary of taking that much-needed vacation. But now may be the perfect time. With many airlines reducing or eliminating rebooking fees, combined with the amazing deals on hotels, tours and cruises, it's just a matter of finding the right place for that dream trip.
About Triporati, Inc.
Triporati was founded by a team of online travel veterans who set out to help travelers answer the fundamental question "Where should I go?" Over 70% of leisure travelers don't know where they will travel three to four months prior to their trip, yet existing travel sites begin by asking users where they will go. To address this need, and to help travelers discover great trips, Triporati has built a proprietary destination discovery engine powered by original content and rankings from 65 bona fide travel experts who have collectively written or edited over 550 best-selling guidebooks (Lonely Planet, Frommer's, Fodor's, Rough Guide, etc.). By selecting from a list of 62 activities and interests, and placing them in a rank order unique to themselves, travelers get a personalized world map identifying their best destination matches. Triporati was recognized as one of the top six travel innovators at the 2008 PhocusWright Travel Innovation Summit.
# # #