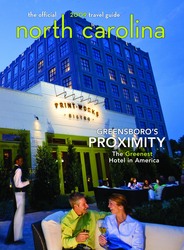 Raleigh, N.C. (Vocus) December 19, 2008
The North Carolina Division of Tourism, Film and Sports Development has unveiled its Official 2009 North Carolina Travel Guide. This comprehensive publication illustrates the evolution of North Carolina's brand message as the state's tourism marketing agency continues to add dimension, energy and a more active voice to the state's renowned natural beauty. The 2009 travel guide is free and available by calling 1-800-VISITNC or ordering it at VisitNC.com, the state's official website for travel information.
To highlight the growing momentum of sustainability and the vibrant cities of North Carolina's piedmont region, the cover of the guide features Greensboro's Proximity Hotel, the nation's highest rated "green" hotel and restaurant and the America's first LEED Platinum hotel, as rated by the U.S. Green Building Council.
"North Carolina opens up endless possibilities for our visitors to connect with family, loved ones and even themselves," said Lynn Minges, executive director of the North Carolina Division of Tourism, Film and Sports Development. "With 185 advertisers, this 184-page guide is made possible by strong travel industry partners who help underwrite the print and online versions of the publication with nearly $2 million in public and private investment."
Editorial features in the 2009 guide celebrate the state's diversity and range of activities including spas and resorts; the growing culinary, wine and micro-brewery scenes; Native American culture; rich African American heritage; golf; home-grown arts and crafts and more. The guide includes a foldout road map to assist travelers in planning and on the highway.
The Official 2009 North Carolina Travel Guide showcases 740 attractions, 3,988 accommodations and includes information on activities throughout North Carolina including its state and national parks.
Destinations, attractions and accommodations in the guide are listed free of charge. Tourism partners may supplement their presence through online advertising on VisitNC.com, advertising in the print guide and through cooperative marketing efforts with the Division of Tourism.
The Official 2009 North Carolina Travel Guide will also live online at VisitNC.com as a virtual guide. Last year's guide was viewed 147,918 times with 650,000 print guides distributed through online, call center and visitor center inquiries, in addition to public relations efforts, events and other related Division activities.
Tourism remains one of the state's most vital industries with economic activity and employment generated by tourism spanning various economic sectors. Annually, visitors to North Carolina spend $16.5 billion, generating more than 190,000 jobs for North Carolinians. State and local tax revenues, as a result of the visitor spending, total more than $1.3 billion.
Natural scenic beauty, adventure and relaxation, a dining experience for every taste, rich history and warm Southern hospitality come together in North Carolina. Call 1-800-VISIT NC or go to VisitNC.com to plan your next getaway.
# # #