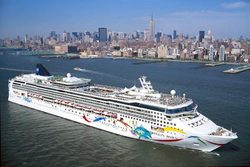 NCL's BookSafe Travel Protection Plan takes the worry out of vacation planning, helping guests book a stress-free future cruise despite uncertain economic times
Hauppauge, NY (PRWEB) March 25, 2009
With all of the "gloom and doom" news about the economy that we are now bombarded with nearly every day, it's not surprising that many people have developed a case of paranoia about the possibility of losing their job. In some industries, for example automobile manufacturing in Detroit, the fear is justifiable because the entire industry is fighting for its very survival and, in the process, mass layoffs have become an unfortunate fact of life for many workers. But, in other cases, the possibility of a layoff today is hardly greater than the ever-present possibility of a layoff at any time in the past. The days of "guaranteed lifetime employment" have long-since vanished and, like modern baseball teams, we have all come to realize that every company is a business and every employee is a "free agent".
Unfortunately, though, the news media's constant focus on the economy has caused nearly everyone to start "looking over their shoulders" and wondering if their job is "secure". This is ironic for two reasons. First, is the false notion that anybody's job was ever "secure" to begin with. Let's face it, most organizations in our capitalistic society (with the exception of non-profit corporations and the government) are in business to make money and, if a company encountered financial difficulty (even temporarily), or if certain employees weren't living up to expected performance standards, there's a good chance that "heads would roll". So, nothing has really changed in that respect. But, the real irony here lies in the fact that most people who fear losing their job reduce their spending and, while that may be a perfectly rationale thing to do if job loss is imminent, it is completely irrational (and counter-productive to economic recovery) when people stop spending money simply because they are led (by fear) to believe that they should.
The cruise industry was one of the first to recognize this irrational "fear factor" and quickly rose to combat it. Few people who had actually lost their job (or whose job loss was imminent) would seriously consider planning a cruise or any other dream vacation. But what about the other 93% of the population? Well, the first thing the industry (and their travel agency networks) had to do was to remind their clients that their deposits are generally refundable if the cruise reservation is cancelled at least 75 days prior to the sailing date (or 90 days prior to holiday sailings). So, if, for example, a person booked a cruise sailing on July 15 but suddenly lost his or her job and had to cancel, the client's full deposit for the cruise would be refunded if notice of cancellation was provided by May 1 (i.e., 75 days before the sailing date). But, what would happen if the client was laid-off just a few weeks before their scheduled cruise? Well, ordinarily, the client would lose some or all of his / her deposit money and, to a person who just lost their job, losing a few hundred bucks would "add insult to injury".
So, the logical solution was to expand coverage under Travel Insurance policies to include cancellation due to layoff. Norwegian Cruise Line (NCL) was among the first to start the ball rolling by recently announcing their "BookSafe Travel Protection Plan" which will be available for cruises departing on or after May 1, 2009. For an additional $29.00 per person (above their usual premium for Travel Insurance coverage), the NCL plan provides full cash reimbursement if a client cancels their cruise at any time prior to the scheduled departure date due to job loss. Or, as their press release to their travel agent network puts it, "NCL's BookSafe Travel Protection Plan takes the worry out of vacation planning, helping guests book a stress-free future cruise despite uncertain economic times". At this moment, Royal Caribbean Cruise Line, Celebrity Cruises & Carnival Cruise Line have not announced any plans for job-loss protection.
The NCL announcement was quickly followed by private travel insurance companies and agencies offering similar coverage options. But, to Tom Coiro, Vice President of Direct Line Cruises, everyone is merely "jumping on the bandwagon" by feeding on the economic paranoia. As Tom informed us, "Direct Line Cruises has provided travel insurance coverage at no extra cost to its clients for years, and our policy with Access America [one of the largest Travel Insurance companies in the world] has always included full coverage in the event of cancellation due to layoff". But, as Tom candidly admitted, "Until our in-house attorney recently reminded me, I had long since forgotten that our policy already provided layoff coverage. Our clients hardly ever inquired about it until now because of all the gloomy economic forecasts in the news. But, now that everyone is so pre-occupied with the economy, we're going to highlight the layoff benefits on our website and in the coverage summary we provide to our clients. As Tom concluded, "If you can't beat em', join em".
###