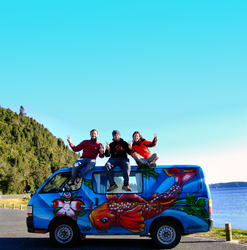 (PRWEB) June 12, 2009
From June 2009 Travellers Autobarn will be offering campervans in New Zealand with locations in Auckland & Christchurch. Travellers Autobarn has opened its doors through two strategic partners: Escape Campers & Happy Campers. Both companies fit into T.A.B profile: High Value for very little money.
Travellers Autobarn Managing Director, Peter Burke says: "After undertaking major expansion of our Australian campervan fleet over the last couple of years with great success, we felt New Zealand was the next logical step for us. With its relatively small size and quiet roads New Zealand is a popular self drive for all travelers but has very little direct competition for our market. We've found most backpackers who visit Australia are also heading to New Zealand, except the big difference is that a large amount of them only do 3 -6 weeks in NZ and are spending their savings from working in Australia on seeing it in a campervan.
"Choosing a strategic alliance for our entry into the New Zealand market meant we were able to enter very quickly and offer backpackers and our agent partners both here and overseas the same experience as in Australia. We've spent many years growing our reputation for great value and outstanding service in Australia and now it's time to export that reputation to NZ and tackle something new. The partners we've chosen to work with share the same ethos as TAB. They are young, vibrant companies who get a thrill out of giving young travellers a chance to see their country, something which has always been central to the Travellers Autobarn philosophy - and when you think about it what better way is there to see New Zealand than in there very own campervan?"
Travellers Auto Barn offers two different vehicles in NZ (compared to their larger Australian range) - the Escape Camper & the Happy Camper. The Escape Camper is the perfect van for two people with each van having its distinct own art work - much like Travellers Auto Barn's own Chubby Van. The Happy Camper is a 3 berth campervan, which comes with its own fridge, cooking facilities and a bit more space.
For more information visit our New Zealand campervan website
###