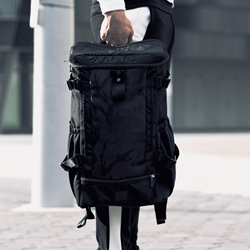 Travelog's core promise is to provide a solution that incorporates daily essentials and workout gear into an everyday bag, with style.
LIVERMORE, Calif. (PRWEB) October 17, 2018
Today, Travelog launches its crowdfunding campaign for a new line of three everyday bags with a funding goal of $5,000. Travelog bags integrate the spacious, safe, multi-functional and innovative qualities of a typical sports utility bag with the elite look of a luxurious work tote. Travelog's core promise is to provide a solution that incorporates daily essentials and workout gear into an everyday bag, with style. The bags featured during the Kickstarter campaign include The America Backpack, The Heritage Flip-Top Backpack and The Messenger Backpack.
Every Travelog bag comes with three unique features; the innovative patent-pending belt strap - an easily disassembled backpack shoulder strap that transforms into a sporty expandable waist pouch that allows users to carry personal belongings during their workout. Each bag is also equipped with an anti-bacterial compartment accessible from the bottom of the bag. This compartment is lined with SGS lab certified material that is proven to separate germs and odor from the main compartment, while it is spacious enough to fit a pair of size 11 shoes. Last but not least, the practical exterior USB charging port never leaves users powerless with the ability to charge on the go.
The America Backpack is designed with multiple interior pockets that help organize all belongings. It has an outer shell made of highly durable fabric, features straps position at the right spots to secure any loose items to keep hands free. The Heritage Flip-Top Backpack is perfect for an overnight stay; its side openings allows for quick access along with a drawstring closure to provide an extra sense of security. The Messenger Backpack allows users to easily switch from backpack to messenger style to suit any occasion. These Travelog bags offers extra padded shoulder straps make wearing them super comfortable. Each bag offers a large opening that fits easily books, folders, lunch and a 15" laptop. And the antibacterial compartment to hold running shoes and gear after a workout session to keep them separate from other belongings.
Through their Kickstarter campaign, Travelog is also offering The Tech Accessory Organizer, which arranges cables, earphones and power banks with ease. The organizer features a D-ring to hook extra accessories and a pass-through hole to slip a charging cable to charge devices. The Anti-Leak Station is a water-resistant pouch to keep accessories neat and sanitary. Designed two separate compartments, this accessory ensures extra sense of security travel experience by keeping liquids away. The Little Laundry Bag is a lightweight, mesh bag to keep garments on the go and made with breathable, washable fabric. These accessories are perfect for everyday use be it work, sports or travel!
Travelog bags are currently available for pre-order starting at $99 for 60% off on Kickstarter. For more information about the campaign or to pre-order, visit pr.go2.fund/travelog.
About Travelog
The Travelog mission is, "to reactivate one's work life, while keeping a fit lifestyle in hustle and bustle cities." The brand reflects the game-changers, groundbreakers, revolutionaries and challengers of the world who are well-rounded and think outside the box. For more information about Travelog, visit http://www.travelog-design.com.