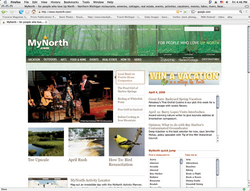 Research has shown us that introducing our content to a wider audience will result in more subscriptions, not less
Traverse City, MI (Vocus) April 11, 2008
Deborah Wyatt Fellows, founder and editor in chief of Traverse, Northern Michigan's Magazine today launched MyNorth.com, the online home of Traverse, as well as sister publications Northern Home & Cottage and Destination Northern Michigan.
"MyNorth.com is not a typical magazine website," says Fellows. "We've chosen to do something far more encompassing. In addition to the familiar content of the magazines--the award-winning stories, the gorgeous photos--website visitors will see that MyNorth.com is a vibrant, current, easy-to-use web version of who we are and who we have been to Northern Michigan for almost three decades."
MyNorth.com Tools Support Michigan Tourism
From MyNorth.com, visitors can book a flight, find a cottage to rent and track down a dream piece of real estate. Discover the latest travel deals, get news on the region's best wines, hear music by emerging Northern artists, sort through hand-picked recipes that suit the season, read input from Northern neighbors and check out their photos--and, of course, share comments and pictures. At MyNorth.com, visitors will find a complete database of Up North attractions, trails, lighthouses, golf courses, ski areas and restaurants.
"We have 27 years of the best of life Up North stored in paper magazines," says Traverse vice president and editor Jeff Smith. "The most relevant features and articles are now available to a broad new Internet audience in a way that allows readers to search for just the story they want."
Plus, MyNorth.com has added an internal video department, covering topics like the outdoors, entertainment and home style, and giving visitors expertly shot videos on topics like dog sled excursions, eco-friendly home design, insider tips about home style and more.
Open Access to What Makes Traverse Great
"One of my jobs over these last few months has been to sort content from the magazines and put it into web-ready format," says Fellows. "After untold hours marveling all over again at the ease with which this staff captures Northern Michigan, I'm reminded that our staff is made up of professionals in every sense of the word, from the creativity with which they gather the elements of a feature to how they execute its layout on the page."
Last year this team earned the title "Magazine of the Year" from the International Regional Magazine Association. This year the team has been notified that it has won a general excellence award from the City & Regional Magazine Association, continuing a history of general excellence awards from this organization.
As the website developed, Fellows had many colleagues, advertisers and friends ask, "If you put all the content on the website, won't that discourage people from subscribing or buying the magazines at the newsstand?"
"Research has shown us that introducing our content to a wider audience will result in more subscriptions, not less," explains Fellows. "Reading our magazines is a rich experience of stunning photos, wonderful layouts, varied typefaces and pages--and you don't mind if it gets a little sandy if you read it on the beach. The Internet has benefits the printed page can't provide--updates are immediate, you can watch video or search databases endlessly or share your experiences with the world through our comments sections. We expect our audience to enjoy both products and in fact, that's what subscribers are telling us."
Traverse subscribers are extremely loyal to the publication; many have subscribed without pause for 10, 15 and 20 years. And a great many readers buy several gift subscriptions for loved ones who've moved away. Subscriber response to MyNorth.com is positive, especially regarding the tools available to review restaurants, recipes, cottage rentals and real estate listings. Many subscribers indicated that they will use the site to help friends and family understand the benefits of subscribing to the magazine.
More Tools, Features & Community to Come
Fellows points out that there are a great many more plans for MyNorth.com, especially in user-generated content. Today's visitors are seeing just the beginning.
"There will be more places to share comments, photos and video. We'll add topics, provide more products in the store and of course, there will be more articles, videos and photography," says Fellows.
"We expect MyNorth.com to be the gathering place for people who love Up North. And we're also excited about the site's ability to introduce Northern Michigan and all it has to offer to those people who are considering a visit or a move to the region. For either group, MyNorth.com is a whole new way of experiencing this place."
About Prism Publications, Inc.
Prism Publications, Inc., founded in 1981 by Deborah Wyatt Fellows, publishes MyNorth.com, Traverse, Northern Michigan's Magazine, Northern Home & Cottage and Destination Northern Michigan, a Northern Michigan travel guide, in addition to several other print and online publications. Traverse and its staff have won more than a dozen national and international awards for excellence, including most recently "Magazine of the Year" from the International Regional Magazine Association and a 2007 silver award for general excellence from the City and Regional Magazine Association. Prism has also published Reflections of a Life Up North a coffee-table book of stunning photography from Traverse paired with a collection of Fellows's columns, which has been reprinted in an expanded edition. Prism Publications is also a proud sponsor of many events including the Cottage & Lakefront Living Show, the Michigan Log & Timber Expo, The Epicurean Classic and the National Cherry Festival's Cherries D'Vine event. The privately held company is headquartered in Traverse City, Mich. For more information, visit MyNorth.com or call (231) 941-8174.
###