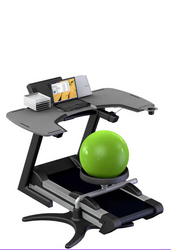 This may sound too good to be true but the advantages of TrekDesk are backed by solid medical evidence focusing on the benefits of consistent daily walking
Phoenix, AZ (Vocus) October 21, 2008
Wouldn't it be wonderful if there was a product that could increase an employee's mental capacity, improve their health, ward off disease, shed excess weight and make them more productive?
The manufacturers of TrekDesk (http://www.trekdesk.com ) will be offering such a solution in February 2009. TrekDesk is a workstation that fits over an existing treadmill and allows employees to walk and work simultaneously, at slow speeds without sweating.
"This may sound too good to be true but the advantages of TrekDesk are backed by solid medical evidence focusing on the benefits of consistent daily walking," states Steve Bordley, TrekDesk President and Founder. "We encourage everyone to read the medical studies at TrekDesk's website (http:http://www.trekdesk.com ). The evidence is irrefutable. Daily walking has been shown to improve almost every facet of health."
TrekDesk, a full sized height adjustable workstation, fits any existing treadmill. Featuring a 72 x 34 inch surface area, there is sufficient space for any desk related task. Workers simply place their computer, phone, files, reading materials, pens and paper and coffee (yes, it has cup holders) and start walking. It is that simple.
A study by the University of Illinois recently showed that memory can be increased by as much as 50% in just 6 months, due to increased blood flow to the brain. Just about every major disease affecting the nation today could be significantly reduced with daily walking, including some forms of cancer and Type II diabetes. "People generally are interested because the weight loss using a treadmill desk can be significant (without restrictive dieting) but the additional health benefits are even more important in my judgement," states Bordley.
While a recent study by America on the Move showed that most Americans do not exercise regularly due to time constraints, TrekDesk is automatic and converts the existing base of 50 million treadmills from dust magnets into health restoration machines. Just start walking and working.
At the end of the day an employee has burned between 800-1400 calories, stimulated their lymphatic system to ward off disease and earned a paycheck while using it.
There is even an added bonus in today's stressful world of recession, stock market crashes and home foreclosures. Daily walking has been shown to assist in combating stress and improving a worker's overall mood. So encourage your staff to get back to work and start walking. It will make employees happier, smarter, stronger, lighter, healthier and more productive.
ABOUT TrekDesk: manufacturer of the first affordable full sized, adjustable workstation designed to fit an existing treadmill and allows walking while working, burning calories without sweating and enhancing your employee's health.
###