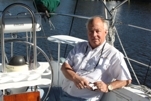 "He knew that one day his treasure hunt would take him into many archives and libraries rather than diving to sunken shipwrecks or digging on island shores"
Kitty Hawk, NC (PRWEB UK) 3 November 2011
A new book, Treasure Island: The Untold Story, by American author and historian, John Amrhein, Jr., answers the question of "where is Treasure Island." As readers of Stevenson's classic will recall, the map pulled from Billy Bones's sea chest pointed to treasure buried on an unnamed Caribbean Island dubbed "Treasure Island" where a treasure was buried by a Captain James Flint on August 1, 1750. In real life, this happened, not in August, but on November 13, 1750, a date that preceded the birth of Robert Louis Stevenson, born November 13, 1850, by exactly one hundred years. In 1980, when Amrhein had first read of this real life Treasure Island and that one of the main characters was named John Lloyd who had a wooden leg, the hook was set.
"He knew that one day his treasure hunt would take him into many archives and libraries rather than diving to sunken shipwrecks or digging on island shores," Amrhein mused. This discovery drove the diver, historian, and author to undertake a massive hunt for documents related to the real treasure stolen and buried in the Caribbean in 1750.
In his new book, Amrhein documents the trail of the treasure from the time it was loaded in Veracruz, Mexico, aboard the Nuestra Senora de Guadalupe, to its theft, burial, and dispersal in the Caribbean. This is his second installment on the 1750 Spanish flotilla which completes his documentary on this historic fleet. His first was The Hidden Galleon, (New Maritima Press 2007). This is his story of his hunt for the Spanish warship La Galga and her discovery. In 1983, Amrhein found the wreck buried within the Chincoteague National Wildlife Refuge on Assateague Island, Virginia. Just as Treasure Island was made into a movie, his first book documents how the Spanish man-of-war, La Galga, inspired the book Misty of Chincoteague which was made into a movie in 1961. Misty was a horse that legend says descended from horses that escaped from La Galga.
Amrhein's latest book documents not only the treasure recoveries that occurred soon afterwards but that a fragile peace between these two enemy nations was put to the test as the English and Spanish crowns haggled over the stolen treasure.
Realizing the enormous potential of a great story, Amrhein, not only hired researchers in Spain and England, but Denmark and The Netherlands as well. There were great document discoveries made in each country which brought this very dramatic story to life. Many documents had never been seen before. Through his own research in the U.S. he was able to find missing links that tied these sometimes disparate documents together. His research expanded to Wales, where John and Owen and Lloyd, the perpetrators of the treasure heist, were born. In Scotland he pursued the fascinating life story of Robert Louis Stevenson. Caribbean documents shed further light on this forgotten history. The author was determined to leave no stone unturned. By the time he was done, Amrhein had documented a compelling case that Norman Island BVI is Robert Louis Stevenson's Treasure Island and that the infamous author had borrowed from many sources when he wrote his story of buried treasure in 1881.
"There would have been no Treasure Island but for the exploits of the two Lloyd brothers," contends Amrhein, "and that includes Pirates of the Caribbean."
You can read more about it on his website. Amrhein's book was released at the end of August and can also be found on all popular ebook formats.
###