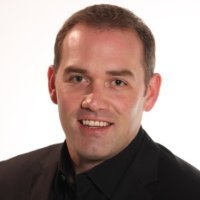 Kyriba® Appoints SaaS Leader Marcus Bragg as President
San Diego, CA (PRWEB) March 19, 2013
Kyriba, the leader in cloud-based treasury management solutions, has appointed former RightNow Technologies executive and Oracle group vice president, Marcus Bragg, as president. In this role, Bragg will oversee global go-to-market strategy and execution, aligning sales, marketing, product and customer experience operations to maximize client success and value.
An experienced leader with high-growth, cloud-based companies, Marcus began his career at software-as-a-service (SaaS) customer relationship management (CRM) software vendor, RightNow Technologies, where he led global sales, demand generation and client success. Due in large part to his leadership, RightNow grew from a team of three when he joined, to over 1,000 employees, publicly traded, and revenues of $230 million. In 2012 RightNow was acquired for $1.5 billion by Oracle, with Marcus serving as group vice president of customer experience and CRM. At Oracle, he executed the integration and go-to-market strategy of the Service Automation portfolio, including sales, solutions consulting, professional services and client success teams.
"Kyriba is a respected leader in the treasury management field, and through its product innovation and customer value, is establishing itself as the major visionary at the convergence of treasury, risk and supply chain finance," said Marcus Bragg, president of Kyriba. "As with RightNow, Kyriba is in lightning growth mode, and I see many parallels between the companies in areas such as thought leadership, technical and operational excellence, and strong corporate culture. Both companies share a strong vision to drive client value, as well as the need to move the market away from antiquated on-premise solutions. I look forward to driving the company's growth across both the U.S. and international markets, working with a committed and intelligent team to enable Kyriba to become the undisputed leader in treasury and risk management."
"Marcus has a proven background building a world-class company and taking it to a successful exit, and has clearly demonstrated leadership in growing both teams and revenues," said Jean-Luc Robert, chairman and CEO of Kyriba. "Having held a senior leadership role in a SaaS category leader, Marcus has developed the experience and strategic vision to cement Kyriba's position at the forefront of the treasury management market. His experience spearheading operations and developing global strategies for a fast-growing, international, company such as RightNow Technologies will bring the expertise and insight to guide us forward as we continue our rapid global expansion."
About Kyriba
Kyriba is the global leader in next generation treasury solutions in the cloud. We enable CFOs and finance teams to increase compliance, reduce risk, and provide the insight necessary for strategic financial decision-making. Kyriba's award-winning cash, treasury, payment, risk management and supply chain finance solutions are highly secure and scalable. With a client loyalty rate of more than 98 percent, Kyriba supports Global 2000 enterprises and fast-growth mid-market companies, including Amway, Electronic Arts (EA), Interpublic Group, PulteGroup, Inc. and Qualcomm. For more information on how to become a strategic partner to your organization, contact treasury@kyriba.com or visit http://www.kyriba.com.