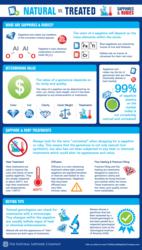 The Natural Sapphire Company has created a detailed chart, a "cliff note" of sorts, for understanding rubies and sapphires.
New York, NY (PRWEB) November 06, 2012
In an age when there is so much worry and concern over making purchases over the internet, The Natural Sapphire Company is going the extra mile to earn consumer trust. It is extremely important to the company that their customers know they are getting the finest natural sapphires money can buy. With four trained Gemologists on staff, each trained by the prestigious Gemological Institute of America (GIA), to source, identify, and guide a customer through the buying process, The Natural Sapphire Company is committed to offering their customers the best when it comes to expertise, consumer education, service, and of course, sapphires.
In an effort to provide the consumer with a clear and concise basis of sapphire and ruby buying education, The Natural Sapphire Company has created a detailed infographic – a cheat sheet for understanding rubies and sapphires. The infographic includes information about sapphires and rubies, how they're valued, how often they are treated, and important tips for gemstone buying. This chart gives a good idea of what consumers should evaluate of when considering their purchase. For a more detailed explanation of Natural vs. Treated Sapphires the consumer can find even more extensive education through The Natural Sapphire Company's website and by following this link: http://www.thenaturalsapphirecompany.com/Why_Natural_Untreated_Sapphires/Treated_vs_Untreated_Sapphires/
About The Natural Sapphire Company:
The Natural Sapphire Company specializes in mining, sourcing, and selling natural untreated sapphires. Founded in 1939 by Walter Arnstein, the company is now a third-generation family business. The Natural Sapphire Company supplies sapphires to retailers, jewelry manufacturers, and private clientele. The company launched its Internet retail section in 1999 and has since become a popular e-commerce website. The Natural Sapphire Company is known to have the world's largest collection of natural, untreated loose sapphires, an amazing array of natural sapphire rings, as well as offering for purchase a one-of-a-kind, $1.5 million 69.35 carat natural oval blue sapphire ring. For more information, visit http://www.TheNaturalSapphireCompany.com