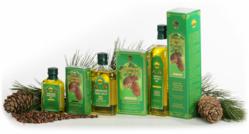 The best advice is not to take needless risks and obtain genuine cold press extra virgin Siberian pine nut oil from official producer www.pinenutoil.org
New York, NY (PRWEB) March 26, 2013
According to PineNutOil.org's recent report concerning pine nut oil and its natural healing elements, pine nut oil can be used as a treatment for gastritis and at times, a treatment of gastritis for those suffering from the terrible disease.
Gastritis is a common condition involving the swelling of the stomach lining, which can vary from mild to chronic depending on its severity. The disease is often written about and pondered on how to cure such stomach ailments without the use of harsh medical treatment and prescriptions by a doctor. Many people seek a treatment for gastritis in the natural world, something non-prescriptive and healthy for their body in an organic approach. The recent report provides medical information that proves there is a healing element in the pine nut oil which will assist in treatment those with this disease.
Pine nut oil is notable from other well-known oils by its enhanced content of numerous healing elements. It is an all-natural product that was used throughout ancient times in folk medicine and has recently come to light as a modern day healer and product of use for the treatment of many different ailments.
Pine nut oil contains a large quantity of polyunsaturated fatty acids, including a substantial amount of fat-dissolving vitamins E and F, which are known for their high level of physiological and anti-acidic properties. It is these anti-acidic properties that assist in the medical ailments occurring with gastritis. The oil contains phosphatidic phosphorus, which is vital to body, besides being a rich source of important micro-elements: phosphorous, calcium, magnesium, manganese, copper, zinc, cobalt and iodine. Pine oil contains up to 5% nitrogenous elements, of which 90% are amino acids, 70% of them indispensable acids — all of which testifies to its high physiological value and the elements which lead to the treatment of gastritis.
The treatment methodology as stated by the report concludes that pine nut oil should be consumed in quantities of 1 tablespoon 3 times a day within 30 minutes to 1 hour before the intake of food. This process should continue for a 21-24 day period. This remedy will assist in the natural treatment for gastritis and other stomach acid illnesses that your body may endure.
In the report to test the curative nature of pine nut oil for gastritis in using the method listed above, there was a 50% decrease in the number of cases of fixed duodenal reflexes, according to endoscopic and laboratory tests. From the report it is concluded that the pine nut oil has a healing effect, meets a favorable reaction with patients and can be applied to the treatment of digestive disorders, specifically, gastritis.
When choosing the pine nut oil to use as a treatment for gastritis, consider what is noted by doctors that recommend pine but oil as a cure for gastritis, "In the market, there were detected counterfeits of cold pressed extra virgin Siberian pine nut oil in different packages, in bottles and gel capsules. Counterfeit and low quality Siberian pine nut oil does not possess above mentioned properties. The best advice is not to take needless risks and obtain genuine cold press extra virgin Siberian pine nut oil from official producer PineNutOil.org"
The oil of Siberian pine nuts has a certificate of quality and safety, which is confirmed by Certificate of Conformity No. ROSS RU.AYa79.V05813, issued by the Novosibirsk Centre for Product Certification and Quality Monitoring (Test Report No. 1163 dated 19 March 2007). The oil of Siberian pine nuts is a thick, transparent liquid, light yellow or golden amber in color, with a nutty aroma.
For more information visit http://www.pinenutoil.org, email info(at)pinenutoil(dot)org or call 248-218-0888.
About Siberian Pines:
The Siberian Pines Company has been a leading producer and supplier of Siberian pine nut oil since 2003. Siberian Pines produces high quality 100% cold-pressed pine nut oil and supplies it worldwide. They maintain the highest quality product and service by managing the process from the collection of Siberian pine nuts, to the production of the oil and delivering it to your front door.