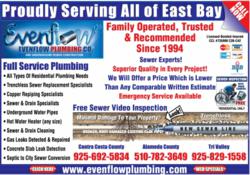 The way we see it, if you have hired us in the last 10 years, it is a value added service we can offer at no additional charge to attempt to secure the exemption sewer certificate
Oakland, CA (PRWEB) November 25, 2012
Oakland trenchless sewer replacement has become much more prevalent since January of 2012 because of the PSL certificate which is currently required by EBMUD and the City of Oakland. A new ordinance is in effect that requires any home being bought or sold to undergo an Oakland sewer test using either air or water. The Oakland sewer test consists of blocking the private sewer lateral before it ties into the main city sewer connection and blocking it as it exits the home. The sewer line is then pressurized with either air or water to see if it holds the pressure with no leaks. If there is no leak an Oakland sewer certificate ( PSL Certificate ) is issued. If the home fails the sewer test then Oakland sewer repair is required.
Evenflow Plumbing of Oakland is now seeking sewer exemption certificates for all customers who have purchased Oakland trenchless sewer replacement in the last 10 years. " The way we see it, if you have hired us in the last 10 years, it is a value added service we can offer at no additional charge to attempt to secure the exemption sewer certificate for our customers even though they are not currently selling their homes. This way if they do decide to sell, they can come to the table with the PSL exemption certificate in hand," says Gary Dimodana, Owner of Evenflow Plumbing in Oakland.
The Oakland sewer exemption certificate allows homeowners to sell their home without having the go through the sewer testing process which should cut down on the need for Oakland sewer repair according to Gary. "We have seen many situations where escrows have been delayed or ultimately didn't close because of a failed sewer test. We want to make sure that our customers from the past have every advantage available now even though they aren't aware of the ordinance. We are willing to assume the cost of this endeavor because we want to maintain our position as the gold standard for trenchless sewer replacement in Oakland."
In addition to being Oakland trenchless sewer replacement experts, Evenflow Plumbing also handles Oakland sewer repair and sewer testing. "We have provided more Oakland PSL certificates than any other plumber since the sewer lateral ordinance took effect," says Dimodana. "When it comes to sewer testing or Oakland sewer repair we are the market leader."
To learn more about the Oakland sewer exemption certificates being provided by Evenflow Plumbing or to learn more about Oakland sewer repair or Oakland trenchless sewer replacement please visit their website. More information is also available from their press releases, their informative online Oakland sewer videos and their blogs. To see up to date online Oakland trenchless sewer replacement reviews please see the Evenflow Plumbing profiles on trusted consumer review sites like Yelp.
Evenflow Plumbing Co
360 Grand Avenue
#155
Oakland, CA 94610‎
Phone (510) 562-1363