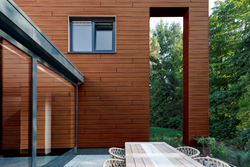 NEW YORK (PRWEB) August 23, 2018
To make it easier to bring the unrivaled beauty of ipe hardwoods to homes and light commercial buildings, Trespa has added a new décor to its Trespa Pura NFC® siding line: Tropical Ipe.
Known as one of the most durable and beautiful hardwoods on the market, Trespa's Tropical Ipe Décor is similar to its namesake in both appearance and durability, but without the tedious and expensive maintenance. The décor features a rich blend of reddish brown hues, and sleek, even grain patterns. Its deep cinnamon tones reflect the look of untreated ipe, which is often darker due to moisture absorption. As with other Trespa Pura NFC décors, Trespa backs the new Tropical Ipe Décor with a 10-year product performance guarantee for panel integrity, including color stability.
Trespa Pura NFC siding can easily be applied in a modern flush style. The material is easy to handle and cut to size. As a result, the new Tropical Ipe Décor siding provides the beauty of newly installed ipe hardwood, is easy to install and will look like new for years to come.
"Homeowners and facility owners alike prize dark hardwoods for their ability to bring warmth, distinction and luxury to the exterior," said Michael Provenza, commercial vice president of Trespa North America. "The new Ipe Décor makes it easier for architects and builders to fulfill their customers' aesthetic desires, while being comforted in knowing that they are providing them with a product built to last."
Trespa Pura NFC® is a contemporary exterior siding that is as durable as it is attractive. It is crafted from up to 70% natural fibers that are impregnated with thermosetting resins, and features a closed surface that ensures optimum weather resistance and UV stability. The siding does not need to be painted or lacquered, and eliminates the worry of unsightly stains or wood rot. Additionally, Trespa Pura NFC® withstands the daily challenges of family life to inspire carefree living. The innovative material is highly impact resistant and cleans easily with soap and water.
Trespa Pura NFC® is delivered as pre-packed siding. Matching accessories can be ordered separately. For product availability, contact Trespa North America at (800) 487-3772 or info.na@trespa.com.