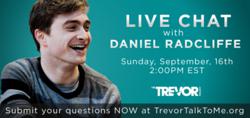 The Trevor Project is full of amazing volunteers who work every day to save lives on the phone and online, but the 'Talk to Me' campaign is about how each one of us can help save a life, too. I am really proud to be a part of this extraordinary initiative
West Hollywood, CA (PRWEB) September 13, 2012
On Sunday, September 16, 2012 at 2:00 p.m. E.D.T., Daniel Radcliffe will participate in a live online discussion to raise awareness about preventing suicide through The Trevor Project's "Talk to Me" campaign. This live conversation on Google+ Hangout will feature questions submitted by young people online and posed by members of The Trevor Project's Youth Advisory Council. The event will be moderated by Shira Lazar of the Emmy®-nominated live, online interactive show, "What's Trending with Shira Lazar," and will be broadcast through TrevorTalkToMe.org and on The Trevor Project's YouTube and Google+ pages.
"Suicide is absolutely tragic, and it's also completely preventable, which is why it is so important to learn how to help during The Trevor Project's National Suicide Prevention Month," said Daniel Radcliffe, actor and 2011 Trevor Hero Award honoree. "The Trevor Project is full of amazing volunteers who work every day to save lives on the phone and online, but the 'Talk to Me' campaign is about how each one of us can help save a life, too. I am really proud to be a part of this extraordinary initiative with The Trevor Project."
"Talk to Me" is a public awareness campaign to prevent suicide and runs throughout the month of September. The campaign is grounded in research indicating improvements in help-seeking behaviors and access to care can have a dramatic effect on suicide prevention, a message emphasized in the new National Strategy for Suicide Prevention released on Monday by the Department of Health and Human Services.
The live chat on September 16 will feature Radcliffe, who will be answering questions from Google's office in Toronto, Ont., and Lazar will be moderating the event from Google's office in Venice, Calif. Trevor Youth Advisory Council members, Andii Viveros, 19, Brandon Robert White, and Shontay Richardson, 20 will be co-hosting the event from Fort Lauderdale, Fla., Oklahoma City, Okla., and Purchase, N.Y., respectively. Young people from around the world have been submitting questions for Radcliffe through TrevorTalkToMe.org all this week.
"The Trevor Project is very excited for this truly international event and grateful for Daniel Radcliffe's continued and unwavering support of our life-saving, life-affirming programs for lesbian, gay, bisexual, transgender and questioning youth. It really makes a difference to hear a straight ally and role model like Daniel empower young people to do something life-saving, like saying, 'talk to me' to a friend," said Abbe Land, Executive Director & CEO of The Trevor Project.
To learn more about "Talk to Me" and to get involved, visit TrevorTalkToMe.org.
ABOUT THE TREVOR PROJECT:
The Trevor Project is the leading national organization providing crisis intervention and suicide prevention services to lesbian, gay, bisexual, transgender and questioning young people under 24. Every day, The Trevor Project saves young lives through its free and confidential lifeline, in-school workshops, educational materials, online resources and advocacy. Honored by the White House as a "Champion of Change," The Trevor Project is a leader and innovator in suicide prevention. Learn more at TheTrevorProject.org.