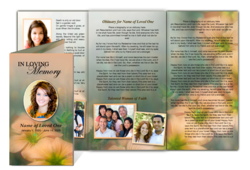 ...the end result was absolutely stunning!
San Francisco, CA (PRWEB) November 08, 2012
Creating a brochure isn't easy for most who are creatively challenged. The Funeral Program Site, who is best known as the industry leader creators for funeral templates, is very familiar with the short window of time within funeral planning process.
Aside from trifold brochures being used as a business marketing item, the tri fold layout is also widely used as a funeral program. The Funeral Program Site has recently launched its beautiful line of ready-made trifold brochure programs. The company calls this line the collage trifold layout because there are many photo box frames provided for you within the format.
Similar to the other templates this company provides for immediate download, the trifold layouts offer a full color background design with predefined text boxes throughout the template. Printable templates such as these make creating a difficult project into a very easy one.
The company has also provided easy to use video tutorials to guide the customer in customizing the template. "The process is very simple because we make it with the basic customer in mind. We are well known in the industry for our professional layouts and this one is no exception," reports Carole Galassi, CEO and founder.
"I purchased a trifold brochure template from The Funeral Program Site and am happy to note that the end result was absolutely stunning!" writes Elisa, a recent customer from Detroit, Michigan.
The company plans on adding new designs within this category and currently offer it in a legal size paper setup. You can request the trifold in the larger size of tabloid as well. Every design the company offers, which totals as of this release, to over 350, can be converted to a trifold brochure layout.
"If customers do not see if available on our website, they can simply contact us via livechat, phone or email to create it in a trifold. This whole process only takes about 15 minutes so there is no additional time delay," shares Rosie, a junior team member.
Are there other websites who offer the same thing? Yes. Are the designs comparable to this company? The comparison between other companies is none. The Funeral Program Site consistently comes out ahead of its competition. In fact, it appears competitors are copying categories and layout styles from this popular resource. According to research, the company provides one stop service no other competing website provides. Having served the death care industry for over a decade, The Funeral Program Site team are a team of professional and dedicated individuals who provide quality templates.
Check out the newest selection in trifold layouts on their website or visit http://www.funeralprogram-site.com/any-occasion-templates/trifold-brochures.