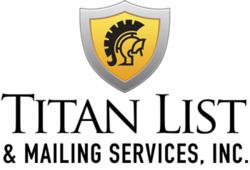 The information provided by Titan Lists has helped us meet many profitable clients who have a need for our services
Deerfield Beach, FL (PRWEB) October 03, 2012
For any company, research is the key to success. Having appropriate information regarding the target market can help a company reach the heights of success. Titan List and Mailing Services, Inc., a successful mortgage marketing firm that deals in data lists and direct mail marketing has sold more than 400,000 Trigger Leads across the country in a matter of one week.
Address Lists are essential for firms that need to reach out to their target market. A company can purchase a consumer address list or a business address list depending on the type of product or service they offer. Firms can obtain custom made address lists according to their specific business requirements. They can use these lists to market their products and services to their target market.
Titan List and Mailing Services, Inc. has access to each and every database available in the country. They have contacts with the country's biggest data compilers and are able to acquire information of the highest quality. Their address lists are then updated and compiled every month.
The consumer address lists provide target market segmentation information according to a variety of characteristics, some of which are home owners, tenants, pet owners, income, age, marital status, and education and credit card holders.
The target market segmentation information provided for business address lists includes characteristics like credit ratings, employee strength, Fortune 500, number of branches and the year of commencement.
Trigger leads are a reliable technique that help mortgage companies narrow down their target market and reach out to a narrower, yet very profitable segment that has a greater possibility of responding to mortgage specific advertisements.
Bob Caruso, Sales Director at Titan List & Mailing Services, Inc. said, "We are all very excited about our current sales record. For years we have helped companies reach out to their most profitable targeted segments and achieve outstanding results. We will continue our struggle to assist companies to achieve loyal and profitable customers in the future too."
A spokesperson of a B2B company said, "Business customers are hard to trace. The information provided by Titan Lists has helped us meet many profitable clients who have a need for our services. Because of them, we have achieved our sales target quicker this month."
To learn more about the services offered by Titan List and Mailing Services, Inc., you can visit their website http://www.TitanLists.com.
About Titan List and Mailing Services, Inc.
Titan List and Mailing Services, Inc. is a direct marketing agency that offers a complete range of advertising and design services. The firm specializes in data lists (mail/phone), printing, direct mail, graphic and website design as well as internet and SEO marketing. Starting in 1998, the company has, since then employed highly skilled individuals who have considerable experience regarding marketing trends. The company manages the complete in-house campaign themselves including Design, Data Lists, Printing, Postage, and Mailing.
For further information, you can contact them using the details given below.
Contact Details
Web: http://www.TitanLists.com
Phone: 1-800-544-8060