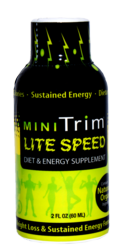 With only 20 calories, and a full menu of natural and organic nutrients packed into its 2 ounces, it is a perfect dietary supplement
Clearwater, FL (PRWEB) May 05, 2011
Advertisements have promoted that, thanks to their high vitamin content, energy shots are quicker than drinking a cup of coffee and provide the same amount of caffeine without the energy crash later. Trim Lite Speed works similarly but was engineered to do more than just provide energy. With only 20 calories, and a full menu of natural and organic nutrients packed into its 2 ounces, it is a perfect dietary supplement. Like all energy shots, it is quicker than drinking a cup of coffee, but Trim® Lite Speed is unique as a meal replacement and is obviously much quicker than eating a meal!
Trim® Lite Speed, when substituted for a meal will promote significant weight loss. It can also be taken as a dietary supplement in addition to meals for an extra dose of essential vitamins and nutrients. It contains ingredients that support enhanced metabolic output and appetite suppression with no stomach irritation.
This doctor formulated nutraceutical (or nutritional pharmaceutical product) contains all natural coffee bean extract which has the equivalent caffeine content as a cup of coffee in addition to a plethora of nutrients with added health benefits.
Trim Nutrition is a reputable Wellness Nutritional Company in the Tampa Bay area, founded by Brent Agin, M.D. author of Superfoods for Dummies, and Healthy Aging for Dummies. Trim's nutritional supplements are designed to support health and wellness. Trim® maintains a licensed and certified compounding pharmacy to formulate a host of nutrient injections and IV (intravenous) therapies for all of their Trim® Wellness Centers and other health centers throughout the country. Dr. Agin's main Wellness clinics are located in Clearwater (Choice-wellness.com) and Naples (Trimwellnesscafe.com) Florida and are easily accessible to the public.
Lite Speed is the first of the Mini Trim® Supplement line available from Trim® Nutrition, although their line of dietary supplements, B12 & HCG Injections have long been popular online.
###