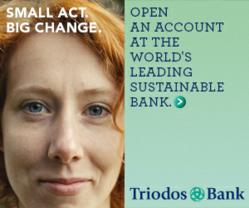 People are beginning to realise that what they do each day in their lives can make a difference to the world around them...
(PRWEB UK) 1 March 2013
Research(1) from Triodos Bank shows that, over the past year, 39% of people have increased their recycling, 16% have started shopping more locally, 15% are using their car less, 11% have increased their charitable donations and 10% have started buying more organic or fairtrade food.
However, despite scandals, such as Libor, at mainstream banks, 42%(2) of people have no idea what their bank does with their money and just 6%(3) have taken the relatively simple yet impactful step of having a savings or current account with an ethical bank.
Huw Davies, Head of Personal Banking at Triodos Bank, said: "People are beginning to realise that what they do each day in their lives can make a difference to the world around them, from where they buy their food, to where they deposit their money. More and more savers are beginning to question their bank's ethics and how money is used when on deposit and we hope more people start to recognise that small act can bring big change, including when it comes to finance.
A new radio and online advertising campaign from the Bank titled 'Small Act. Big Change' sets out to remind people that the little things we do can have an impact, and set something big in motion. From the kind of food we eat to how we commute and what we do with our savings. The message reflects the cultural shift away from cynicism, towards a belief in one's ability to contribute to a better world. Watch the film 'Small Act. Big Change.'
Huw added: 'For too long mainstream banks have sat back and been happy running purely transactional services for their customers, without encouraging their customers to think about or engage with the money deposited. There has never been a better time for people to act on their concerns about their bank's ethics and start feeling good about saving with a bank with an ethical approach.
"At Triodos Bank, our savers will always know exactly how we are using their money, and that it is only financing organisations delivering a positive environmental, social or cultural impact. Saving in a Triodos Bank ISA not only means you get a good financial return, but also peace of mind that the money you are saving is making a positive difference to people, society, and environment."
As the change of the tax year approaches and people begin to consider options for their ISA Triodos Bank highlights that if people invested their full 2012-2013 cash ISA allowance of £5,640 into a Triodos ethical cash ISA, their money would help finance Triodos' £15,726,397 funding of the education sector meaning for every £5,640 invested seven individuals are being supported through education.(4) For example, Triodos Bank finances the Premises Music Education programme charity, a range of courses at a pioneering London music recording studio offering musicians of all abilities the chance to develop their skills, from a women's music technology workshop to apprenticeships in studio management.
Triodos Bank customers can see exactly how their money is being used on the bank's website. Savers can see the projects their deposits are funding, such as the solar PV installation at Glastonbury's Worthy Farm, Hugh Fearnley-Whittingstall's River Cottage, green power company Ecotricity and more than 1,500 other sustainable enterprises. Triodos Bank is the UK's only commercial bank to publish this information for all its customers.
END
Notes to editors
Footnotes:
(1), (3), 2015 people were interviewed online on behalf of Triodos Bank by Opinium Research between 29 and 31 January 2013. Research conducted by Opinium Research among 2015 UK adults (aged 18+) between 29th and 31st January 2013. Weighted to a nationally representative criteria.
(2), Research conducted by Opinium Research among 2012 UK adults (aged 18+) between 25th and 28th July 2012. Weighted to a nationally representative criteria.
(4), £15,726,397 = total value of Triodos Bank finance to education sector at an average £780 per individual (20,158 individuals currently reached through Triodos Bank funding to the sector). £5,640 2012-2013 cash ISA allowance divided by £780 average cost per individual = seven individuals supported.
For more information, comment or a case study, please contact:
Lisa Stanley, lisa(dot)stanley(at)triodos(dot)co(dot)uk 0117 980 9721 / 07983 002013
Will Ferguson, william(dot)ferguson(at)triodos(dot)co(dot)uk 0117 980 9770 / 07899 965640
Faye Holst, faye(dot)holst(at)triodos(dot)co(dot)uk 0117 980 9584 / 0755 778 5167
About Triodos Bank
http://www.triodos.co.uk
Triodos Bank only finances enterprises which create social, environmental or cultural added value. Key sectors include organic food and farming, renewable energy, social housing, and fair trade. Transparency is a core value and Triodos publishes details of every business it lends to. A range of personal savings accounts is offered, and full banking services are available for businesses and charities. Triodos Bank is an independent bank founded in the Netherlands in 1980. Its principles and independence are protected through a special shareholding trust. The UK office opened in 1995 and is based in Bristol.