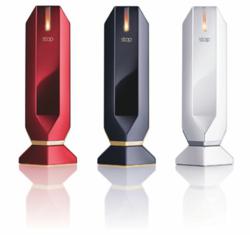 Dr. Beilin "I am very pleased with the clinical results of Pollogen's TriPollar STOP home-use device. The wrinkles reduction and overall facial contouring are remarkable anti-aging remedy for all customers wishing to turn back the signs of aging"
Tel-Aviv, Israel (PRWEB) August 21, 2011
Ghislaine Beilin M.D. (Paris, France), renowned expert in aesthetic medicine, conducted a clinical study demonstrating that Pollogen's STOP home-use device, based on TriPollar Radio Frequency (RF) technology, is a great holistic solution for wrinkle reduction and overall facial skin contouring. The study showed that a statistically significant reduction of perioral and periorbital wrinkles was achieved in 90% and 95% of the study participants, respectively, with an average periorbital wrinkle reduction of 41% after only 6 weeks. The study also showed that all study participants were satisfied to extremely satisfied with the treatments and all reported moderate to excellent visible results after the 6 weeks treatment period.
STOP is the first home-use RF device for facial skin tightening, which has recently been developed based on Pollogen's TriPollar RF technology. The device focuses low RF power from four electrodes deep into the dermis to stimulate dermal activity, tighten collagen fibers and increase new collagen production. The system is indicated for the treatment of skin laxity, to reduce fine lines and wrinkles and improve skin texture.
Pollogen's TriPollar technology has been tested in numerous clinical trials and proved to be safe and effective for facial rejuvenation, skin tightening as well as for cellulite reduction, and general body firming. The results were analyzed objectively and subjectively by using a three-dimensional imaging system to measure the reduction of the wrinkles and by recording patient satisfaction. The study entitled " Home-use TriPollar RF device for facial skin tightening: Clinical study results" is available online at:
http://informahealthcare.com/eprint/xvr3tSqpWIwJDUvhEWxP/full?tokenKey
Customers participating in the clinical study noticed the following results after the 6 weeks treatments at home:
Skin lifting – 86.4% of study participants experienced skin tightening.
Improved skin texture - 77.3% of study participants saw improvement in skin texture.
Smoothness - 63.64% of study participants experienced an improvement in skin smoothness.
Wrinkle reduction - 63.64% of study participants saw a reduction in wrinkles and rythids.
95% of the customers found the treatment protocol to be easy and comfortable to follow.
Dr. Ghislaine Beilin commented: "I am very pleased with the results of Pollogen's TriPollar STOP home-use device. I was already aware of the safety and efficacy of the TriPollar technology as I have researched it in the past and use it in my clinic. It is, however, wonderful to see that this technology can also achieve substantial results with lower levels of RF power. I see a great future for this product as it provides a great way to maintain younger, tighter looking skin".
Mr. Amichai Bar-Nir, Pollogen's CEO stated: "Pollogen created the STOP in response to the growing demand for a home-use device for facial skin tightening. We based it on our remarkable TriPollar Radio Frequency technology which has been proven time and again to be highly effective as a facial toning solution. We could not have asked for better results from the study that Dr. Beilin conducted. We are confident that the STOP will revolutionize the market of home-use devices for facial skin tightening".
About Pollogen
Pollogen Ltd. is a global leader in the medical aesthetics market providing innovative, safe, and effective solutions for women and men that enhance and expand the practice of medical aesthetics professionals. The company offers products to address a range of skin treatments under the industry's two premier brands: TriPollar® and TriLipo®. Pollogen offers a full line of clinically-proven, non-invasive anti-aging facial and body contouring treatment platforms for circumference reduction, cellulite reduction and skin tightening. The flagship medical aesthetic devices, Maximus, apollo and regen XL offer customers clinically-proven, safe and effective anti-aging lunch time beauty treatments that deliver immediate and long-lasting results.
To learn more, visit the Pollogen website at http://www.pollogen.com.
The TriPollar STOP can be purchased on-line at Pollogen's consumer web-site;
http://www.stop-age.com
###