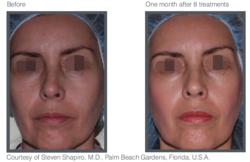 Patients reported a pleasant and pain-free experience and were satisfied with the results. I observed a significant reduction in wrinkles and overall, I am impressed by the immediate and long-term results
(PRWEB) January 31, 2012
The anti-aging solution that patients all over the world have discovered is for the first time available in the US. TriPollar treatments effectively rejuvenate skin in a quick and simple non-surgical and pain-free treatment. Visible results are evident after the very first session and long-term results are achieved by undergoing a series of treatments. TriPollar offers a convenient "walk-in, walk-out" treatment after which patients can immediately resume their daily routine. The treatment is safe and effective on all skin types and colors.
TriPollar treatments are based on TriPollar technology, an advanced 3rd generation radio-frequency based solution that safely and effectively reduces facial wrinkles. During treatment, TriPollar energy heats the skin from within using medically proven radiofrequency energy. The internal heat causes collagen fibers, which are the key structural components of the skin, to contract. This contraction results in immediate wrinkle reduction. Simultaneously, the heating causes fibroblast cells, the cells responsible for collagen production, to generate new collagen. The new collagen provides the skin with added flexibility which yields long term wrinkle reduction. The effectiveness of TriPollar technology has been demonstrated internationally in clinical studies and peer reviewed papers.
"As principle investigator of Pollogen's FDA clinical trial, I am pleased to be the first practice to work with TriPollar technology in the USA. We performed 136 treatments in our FDA study without any side effects," stated Steven Shapiro M.D., Vol. Associate Professor in the Department of Dermatology and Cutaneous Surgery at the University of Miami School of Medicine. "Patients reported a pleasant and pain-free experience and were satisfied with the results. I observed a significant reduction in wrinkles and overall, I am impressed by the immediate and long-term results achieved with the TriPollar technology and its strong safety profile."
Gardens Dermatology and Cosmetic Surgery Center, located in Palm Beach Gardens, Florida, offers the latest advancements in General Dermatology, Dermatologic Surgery, and Cosmetic Procedures. We are dedicated to excellence in the provision of total and preventive care for your skin, hair and nails. Our team of Board Certified Dermatologists provide full service Medical and Cosmetic Surgery for general, adult, and pediatric dermatology. We perform Mohs skin cancer surgery, as well as many cosmetic procedures, including all categories of lasers and newest skin devices.
For a limited time, TriPollar treatments are available at a special introductory price. Contact the Gardens Dermatology & Cosmetic Surgery Center for more details.
For more details contact:
Gardens Dermatology & Cosmetic Surgery Center
11030 RCA Center Drive
Suite 3015
Palm Beach Gardens, FL 33410
(561) 776-7041
info(at)gardensdermatology(dot)com
###