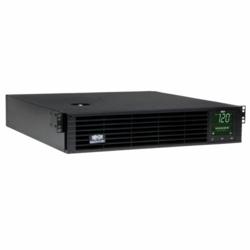 The pre-installed SNMPWEBCARD saves setup time and ensures safe, simultaneous arrival of a valuable communications accessory along with their UPS System
Chicago, IL (PRWEB) March 25, 2013
Tripp Lite, a world-leading manufacturer of power protection and connectivity solutions, has expanded its series of line-interactive UPS Systems to include six SmartPro® models with pre-installed SNMPWEBCARD network cards. These new UPS Systems arrive at a facility network-ready and can be deployed quickly, saving IT personnel valuable time.
Key Features and Benefits:

Six models ranging from 1500-3000VA/1350-2880 watts
Provides secure SNMPv3/HTTPS/SSH management with RADIUS and IPv4/IPv6 support
Interactive LCD shows power and protection status
Automatic Voltage Regulation (AVR) corrects brownouts and overvoltages without draining battery power
Individually controllable outlets allow remote reboot of some or all equipment and load shedding when an outage occurs
Up to 98% efficiency rating reduces power consumption, reducing Total Cost of Ownership
Included PowerAlert software enables efficient configuration and management of hundreds of UPS systems
"These new models are an aid to busy IT professionals performing UPS deployment," said Rich Feldhaus, Tripp Lite Product Manager. "The pre-installed SNMPWEBCARD saves setup time and ensures safe, simultaneous arrival of a valuable communications accessory along with their UPS System."
For more information on Tripp Lite's new UPS systems, visit: SmartPro UPS Systems with pre-installed SNMPWEBCARDs.
To download images, to go: Tripp Lite UPS System photos.
About Tripp Lite
Outstanding product reliability and exceptional service have been Tripp Lite trademarks for over 90 years. Tripp Lite's innovations include the world's first UPS system designed specifically for personal computers, and the world's most trusted premium surge suppressor--the Isobar®-with more than 19 million in use. Tripp Lite maintains the highest level of ready-to-ship inventory in the industry with more than 2,500 different products, including UPS systems, rack systems and cooling solutions, PDUs, PowerAlert software for enterprise-level system management and control, surge suppressors, KVM switches, cables and connectivity products, inverters, power
strips and notebook accessories. Headquartered in Chicago, Illinois, Tripp Lite maintains a global presence with fully staffed offices worldwide. Additional information, including a list of Tripp Lite's sales offices and authorized reseller partners, can be found by visiting Tripp Lite's website: http://www.tripplite.com.