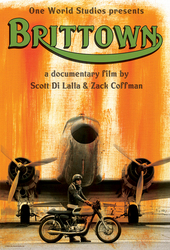 That's the wildest screening I've seen yet since I worked here
Santa Monica, CA (PRWEB) February 14, 2008
Billed as an invite-only sneak preview event, the first theatrical screening of just-completed vintage British motorcycle documentary Brittown became a wild event Thursday night when the expected turnout burgeoned to over five-hundred people and excited attendees nearly overwhelmed the staff in order to grab the free gift bags in front of the historic Laemmle 4-plex theater.
The theater manager closed the doors when it became obvious that the largest theater in Santa Monica was about to overflow. "That's the wildest screening I've seen yet since I worked here," said an exhausted Laemmle Theater employee that had handled the concessions stand for the event.
The main sponsors for the event: Paul Frank Industries, Bass Pale Ale, and Mooneyes were just as excited about the turnout and the response to the film. "Paul Frank was honored to be represented in conjunction with such a fine film," said Paul Frank CEO and co-Founder Ryan Heuser after the screening.
In addition to the special Brittown/Paul Frank shirts and tote bags given to the audience, Mooneyes provided their signature decals, with local bistro La Bottega providing trays of delicious cookies for the moviegoers.
Bass Pale Ale took on the after-party duties by providing free beer and glassware to all who crammed into the world-famous King's Head Pub afterwards.
"We wanted to say thanks to all the people that helped us on the project and give them a fun night of celebration," said one of the film's directors Zack Coffman. "We sent out invitations and tickets, but word kind of got around that the film was going to show and the next thing we new it was filled over capacity."
"Honestly it was a bit surprising, in a good way, that the film would draw so well even on a Thursday night," said the film's other director Scott Di Lalla. "It feels good after nearly a year and a half to finally show it and have a great night for everyone involved."
When asked about their plans for the film, Di Lalla elaborated, "As we field offers from distributors and consider plans for a world tour of the film, we're moving forward immediately with our plan of releasing a special edition of the DVD directly to our core audience through our websites http://www.brittown.com and http://www.choppertown.com ."
Regarding their plans for a Brittown tour Coffman added, "Screenings of the film will be more like cultural events than just traditional sit-down screenings. We want people to bring out their bikes, eat good food and enjoy the goodies brought out by the sponsors…and of course enjoy the film!"
Featuring an insider's view of the SoCal Britbike culture including vintage motocross, dirt track, road racing, custom street bikes, and even a wild vintage lingerie beauty contest, the film has struck another chord within the growing Triumph motorcycle and hipster communities. The release of Brittown comes almost two years to the day since One World's first film Choppertown: the Sinners stormed onto the indie scene by winning several Best Documentary awards and launched a film making movement within the biker community not seen since the release of the seminal biker films "Easy Rider" and "On Any Sunday".
Britttown Synopsis:
Brittown delves into the rambunctious So Cal subculture that centers around building vintage Norton, BSA, and Triumph motorcycles and racing them on weekends followed by drinking lots of beer and playing music all night long. Featuring Meatball from the Hell On Wheels bike shop in Anaheim, CA. As a master mechanic, vintage Britbike connoisseur and motorcycle racer, Meatball splits his time between family, his shop and his rock band Smiling Face Down.
Brittown joins Meatball for several months as he runs his old BSA in vintage motocross races, hits the desert with the No Gooders bike club, flies down the Willow Springs straightaways on his Norstar, and uses all his skill to rebuild an old 650 Triumph Bonneville motor into a blazing road-ready screamer.
From Scott Di Lalla and Zack Coffman, directors of the award-winning custom motorcycle documentary Choppertown.
Choppertown: the Sinners is available through Choppertown.com as well as all major DVD outlets such as Amazon, DVDEmpire, Netflix, and iTunes.
Winner of several awards including Best Documentary at the Temecula International Film Festival, Hollywood DV Festival and Park City Film Music Festival.
About One World Studios Ltd.:
One World Studios is a fully integrated media company specializing in the production and distribution of films, DVDs, music CDs and books; online and through traditional distribution methods.
###