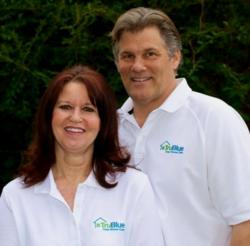 I love the thought that adult children could just visit their parents, enjoy their company, and know that nothing around the house needs to be fixed.
Newport News, Virginia (PRWEB) March 13, 2013
As soon as Tim and Robin Kay Diemont started telling people about their new TruBlue House Care business, the immediate response was "sign me up." The couple is launching their franchise to serve Poquoson, Newport News, Hampton, Yorktown and their surrounding Virginia communities.
With TruBlue, single-family homeowners, small business operators and other community members make just one phone call for all their property maintenance needs. Clients can get year-round assistance with routine and emergency repairs, yard work, holiday decorating, gutter cleaning, maid services and whatever else they need.
A native of Poquoson, Robin is involved in many facets of the community through her work at an architectural firm and her many civic engagements.
"Every time I've told someone about what we'll be able to offer them, they get excited for us and for themselves," she said. "They can't wait to be a part of it. I've had a lot of single women say 'sign me up' because they don't have the time or the skills to take on a lot of things around the house. And a lot of business people express enthusiasm because they're too busy to do the work themselves or to go through the hassles of interviewing and hiring handymen or housekeepers. The idea of being able to place one phone call really appeals to them."
For Tim, the TruBlue franchise was an ideal solution for his next career. After serving in the Air Force, he began a 25-year career working in retail that required him to travel extensively.
"I covered the whole East Coast, leaving on Tuesday and getting back on Thursday," he said. "When my company wanted me to relocate, I looked at other options. Other companies wanted me, but they also wanted me to move. That's when I decided to settle down and work in my own community for my own company."
Friends, many of whom own franchises, suggested he find one he could believe in. TruBlue was that franchise.
"Seniors are the fastest-growing demographic, so I started thinking about something I could do that would help them," Tim said. "I knew about Home Helpers, and TruBlue is a perfect complement to it. Home Helpers assists residents with their personal needs while TruBlue takes care of their home. That is such a freedom not only for the homeowners, but also for their family members. I love the thought that adult children could just visit their parents, enjoy their company, and know that nothing around the house needs to be fixed."
Larsen Sharp, vice president of operations for TruBlue, said the Diemonts represent well the principles behind TruBlue's structure.
"Like Tim and Robin, we recognized the need in the growing senior population, and we also have found that the wider population also appreciates our one-call-does-it-all format," Sharp said. "Busy families often are juggling multiple schedules for Mom, Dad, the kids, the in-laws. Even if the family members have the skills to do the task, they may not have the time. And if they do, they'd prefer not spending it cleaning gutters and such. Of course, some projects require specialized care, and that also takes a lot of time – seeking references, scheduling bids, overseeing work. It's a real relief to be able to call one person and know that the work will be done correctly by the right person at the right time."
Robin echoed that sentiment. "We'll screen our workers and hire the best people. They'll be experienced, bonded and insured. They'll be someone our clients can trust because they'll be someone we can trust. We will know our people well."
Tim lauded the TruBlue business model and the support he and his wife have received.
"We've received excellent guidance, and that has allowed me to focus on promoting the business," he said. "I've expanded my thinking because now I can see how not only the residential community can benefit from our help, but also the commercial side. Lots of mom-and-pops, banks, strip centers and such could use our services. I can also see how Realtors might recommend us to their clients to get their homes ready for sale, and I know a lot of them would want to give one of our gift packages to those who purchase a home. What new homeowner wouldn't want to have a gift of maid service or lawn care? It's a small investment for the Realtor and one that could win them future clients."
To learn more about TruBlue House Care of Newport News / Yorktown, Va., or to schedule a free consultation for services in those cities as well as Poquoson, Hampton, and their surrounding communities, call Tim Diemont at 757-243-1297 or visit http://www.NewportNewsHouseMaintenance.com.
TruBlue House Care's corporate franchise offices are based in Cincinnati, Ohio. To learn more about the franchise system, call 800-291-0771 or visit the corporate website at http://www.TruBlueHouseCare.com.