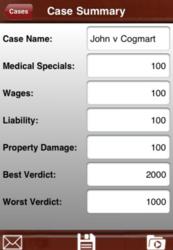 Atlanta, GA (PRWEB) May 08, 2012
A new smartphone and tablet application is on the market that could make legal settlements faster and more accessible than ever. Atlanta slip and fall attorney Christopher Simon and his partner from The Simon Law Firm teamed up for Mediation Master, an app that provides their colleagues with an amazing new tool that will help the often complex process of mediation go much smoother.
Mediation is a means of resolving legal disputes between at least two parties. It requires a third, neutral party, referred to as the mediator, to help everyone involved in a particular dispute come to a settlement. Unlike ordinary negotiation, the process has a defined structure and timetable. The mediator facilitates settlement discussions, receives offers and helps the the parties reach an amicable solution.
As an accomplished car accident and wrongful death attorney, Atlanta lawyer Christopher Simon has years of experience with mediation. With the help of software developers, he has put his hard-earned knowledge into this feature-packed app.
The mediation tracker feature has a midpoint calculator that allows the neutral party to track the sometimes fast-paced offer, counteroffer process and improve the accuracy and efficiency of the agreement.
A settlement worksheet feature allows a mediator to calculate attorney's fees and client net recovery figures instantly and accurately. He or she can then email the numbers right from the app to clients for confirmation and final agreement.
Other included features, like jury verdict probability curves, have application beyond the mediation process. An Atlanta slip and fall attorney like Mr. Simon could show a client visual representation of their odds of success based on the factors involved in their case, leading to better decisions when it comes time to choose between plea agreement or trial.
Taken as a whole, this application is a revolutionary option for mediators, granting them the ability to use their iPhone, Droid or tablet to accept and track offers, find overlaps and split differences during the negotiation process. Over 100 units have already been sold and lawyers are responding positively about the ease and practicality of having this application at their fingertips. Lawyers explain the app is useful as a portable case snapshot allowing for remote access to the key information about offers and counteroffers on their cases when they are out of the office. Mediation is an important part of of the legal system, and this app could make a positive impact for years to come. It's a new option for every situation where there's an impasse between two parties and the neutral offer is not enticing further negotiation.
The latest version of Mediation Master is 1.02, and it is available on the Droid market. It contains a note taking feature that the first release did not. Version 1.02 is also available on the iPhone market.
About The Simon Law Firm:
Christopher Simon practices as a personal injury and tractor trailer attorney. The Simon Law Firm based in Atlanta represents the victims of serious accidents throughout the State of Georgia. Mr. Simon and his partner, Charles Trip Johnson, give no-nonsense legal advice backed by over 35 years of combined trial experience. When you call, you will speak directly to an attorney, not an assistant. To contact the Atlanta office directly, call 1-866-295-8231 to schedule an appointment at 3535 Piedmont Road, Building 14 Suite 410, Atlanta, GA 30305. For more information about our practice areas or to learn more about the firm, visit our website at http://www.christophersimon.com.