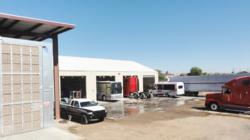 "The decision to select a partner for our paint products was hands down Sherwin-Williams. Their experience and knowledge of the fleet and commercial auto body industry is more than impressive and we could not be happier with our choice."
Glendale, AZ (PRWEB) March 28, 2013
Glendale, Ariz. – All Pro Fleet Painting has chosen Sherwin-Williams Automotive Finishes as its sole paint and finishes supplier. All Pro Fleet Painting originated last year and its commercial body shop is quickly become a favorite among the Southwest's many heavy truck and fleet operators.
Owned and operated by Dan Deary, All Pro Fleet Painting specializes in truck painting, fleet and equipment refinishing along with all commercial body shop services including collision repair. The company is the latest in a series of companies owned by Deary that cater to different segments in the refinish and vehicle wrapping business.
All Pro Fleet Painting brings together a highly experienced team with over 60 years of combined experience in the field. The company's immediate success is a testament to their expertise and by "always putting the customer first" business model.
Known for its extensive service offerings to fleet and other commercial vehicles, All Pro Fleet Painting not only offers fleet and truck body repair and painting, but its service offering includes: equipment painting; truck lettering and wraps; trailer box repair, RV, and Arizona school bus repairs; day cab conversion; cab swaps; and fiberglass and frame repairs.
When asked about his decision to partner with Sherwin-Williams, Deary said "The decision to select a partner for our paint products was hands down Sherwin-Williams. Their experience and knowledge of the fleet and commercial auto body industry is more than impressive and we could not be happier with our choice."
Due to All Pro Fleet Paintings diverse work load, the repairer will be using multiple Sherwin-Williams product lines. High quality products like its Genesis®, Ultra®, and Advanced Industrial Coatings™ will suit the company in its endeavor to achieve unsurpassed customer satisfaction. Sherwin-Williams Automotive Finishes Area Sales Manager Dan Meyer said, "We welcome All Pro Fleet Painting to the Sherwin-Williams family. We expect a long relationship in which our highly productive products and services will help All Pro achieve its growth and profitability projections."
Although only eight months in business, All Pro Fleet Painting has already exceeded its first year's sales projections and expectations are high for the latest of Dan Deary's ventures. Deary is not new to the vehicle services business. His other ventures Capitol Collision Repair is one of the largest independent body shops in Phoenix and just celebrated its 25th year anniversary and 1st Impression Truck Lettering, a leading Phoenix vehicle wrap company that just celebrated year 18 in business.
More information about All Pro Fleet Painting can be found at http://www.allprofleetpainting.com or by calling 623-847-5555.
About All Pro Fleet Painting
All Pro Fleet Painting is one of the largest independent commercial body shops and fleet painting shops in Phoenix AZ. An A+ rated BBB Company; All Pro Fleet Painting provides high quality semi-truck painting, guaranteed fleet and commercial body repair, fleet painting and truck lettering. With one of the largest truck paint booths in Arizona, All pro Fleet Painting services fleets of all sizes… Semi-tractor trailer repairs to Toyota Prius'. They offer certified technicians and are approved by all the major insurance companies. Rental vehicles including fleet trucks are offered and all repairs are backed by a lifetime warranty.
Free estimates are available by calling (623) 847-5555 to make an appointment.
All Pro Fleet Painting
6502 W Myrtle
Glendale, AZ 85301
Phone: (623) 847-5555
Email: info(at)allprofleetpainting(dot)com
Fax: (623) 847-0137
http://www. allprofleetpainting.com
Hours of Operation
Monday – Friday: 8:00 AM – 5:00 PM