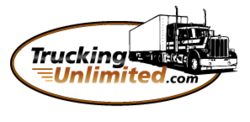 Los Angeles, California (PRWEB) March 27, 2013
Like many other industries, the trucking industry has benefited from the use of computers and Internet technology in almost every area. In addition to companies gaining from the added efficiency of computerized logistics, electronic logging and satellite tracking, on-line job sites have become essential for employers competing for today's truck drivers as well. Partnerships between major carrier companies such as Schneider, CRST Malone, C.R. England, Arnold's and Comtrak and job sites such as TruckingUnlimited.com is a significant indication of how essential the internet has become, bringing more success to innovative companies willing to explore the many advantages to be had.
Truck drivers are becoming a part of the wired world as well. Not only is technology benefiting their amenities and improving the economics of hauling, on-line solutions are the ultimate solution for staying connected while working on the road. Today, many long-distance drivers have laptop computers in their rigs and a growing number of truck stops offer PNV hook-up, a service that provides cable TV, phone access, and messaging as well as Internet access. Instead of lonely nights on the road, relying on truck stops for conversation or their source of important industry news, now truck drivers can easily keep in touch with loved ones, check their e-mail and surf the Internet for whatever they need to know.
Today, there are approximately 3.24 million truck drivers across the nation and a growing majority of them are using lap tops, at home and on the road. With the current truck driver shortage, upcoming changes to FMHSC regulations, new medical requirements and many other critical industry related issues, getting the latest news is as important to truck drivers, as truck drivers are to us getting the essentials for our every day lives.
TruckingUnlimted.com has already proven to be a popular destination for today's demographic of truck drivers who use the information highway to find the industry's best, current jobs. Now truck drivers can count on TruckingUnlimited.com for the same immediate access to the industry's best trucking news. The website now features its "Industry News" page, with important industry related news updated everyday and archived for easy access to every topic dating back.
From the "need to know" to the "good to know", TruckingUnlimited.com now provides the easiest access to the widest range of trucking topics all in one place. A simple click on their "Industry News" page is all truck drivers need to do to keep themselves current on their very important profession, from wherever they are, each and every day.